Google Chromebook: Will the revolution be subscribed?
An idea years ahead of its prime
The truth
Judging from a demonstration during Wednesday's keynote speech, the company has improved the situation with the introduction of a local file system and an API for easily moving files from the system to a web service. But this still doesn't solve the problem of moving files from one web service to another. You're forced to bring a file down to the system and then back up again. This may seem a small thing, and the added steps ensure the platform is unsuited to certain tasks. A Register reporter, for instance, can't use a Chromebook as his primary machine.
Of course, a reporter's needs aren't the needs of all business users. Some need nothing but email and a word processor and a few other basic tools. And some could use a Chromebook without ever leaving their desk, where finding an available network is less of a problem. Google says that in addition to Chromebooks, it will soon offer a "Chrome Box" suited for use on a desktop, designed to connect to a traditional display.
"Businesses told us that the notebook form factor is great in many use cases, but in others, it's not necessary what they need," Sheth said. "If I'm in a call center, I want more of a desktop-like product."
At Wednesday's press briefing, Sanjay Dhar – vice president of IT for Logitech, which has been using the Cr-48 for several months – said he believes that a Chromebook could serve as the primary machine for more than 90 per cent of the company. But this is assuming that they have have access to the Chrome OS-version of the Citrix Receiver, due to arrive "this summer". Receiver lets you run typical client applications over the wire, from a back-end server.
Nonetheless, we'd call Dhar's 90 per cent claim a healthy exaggeration.
Dhar said Logitech had tested about 400 machines across all its organizations in about 30 countries, putting them in the hands of everyone from executives to support staff to engineers. The best part of the machine, he said, was the burden it takes off IT. When a hard drive fails, he explained, you don't have to spend the time replacing files and drivers and applications.
The rub here is that if a hard drive fails, you'll turn to Google for hardware support, an area where the company has little track record. Google has long offered search appliances to businesses, and it briefly offered support for the Nexus One Android phone, a consumer device. But business notebook support is something else entirely. And the Nexus One experiment was a flop.
According to Sheth, Google has already built up an adequate support staff. The company says it will provide around-the-clock technical support for "critical issues", and it will send technicians to replace faulty hardware under the terms of its warranty. At the end of a three-year Chromebook contract, Google will then replace your machines with new ones – if you sign another. Three years, Sheth said, is the typical hardware refresh cycle for most businesses.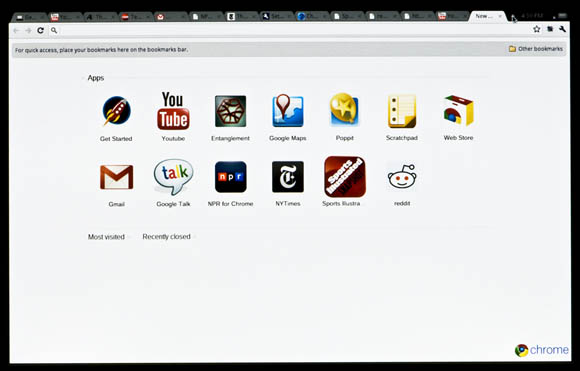 Chrome OS
Though Google demonstrated a machine at this week's conference, systems won't ship until June 15. With its Chrome OS for Business program, Google is offering the same Chromebooks that Acer and Samsung will sell to consumers. Details on these systems are still scarce, but Google has provided basic specs. The Acer will include a 11.6-inch display, weigh about 2.95 pounds, and offer about six hours of battery life. The Samsung is slightly larger, offering a 12.1-inch display and weighing 3.26 pounds, but it will provide an additional 2.6 hours of battery life, according to Google's numbers.
Since the arrival of the Cr-48, Google has not only added a local file manager, but also honed its "cloud printing" service, which lets you send jobs to your local printers via the web. Basically, the service sends jobs to Google servers and then down to a network-connected printer or a full-fledged PC that's attached to a printer. Chromebooks can't use local printers. These are welcome additions. But we need many more if Chromebooks are to "transform" business computing.
At one point during Wednesday's press briefing, Google director of Chrome product management Caesar Sengupta pointed out that if you do sign a contract, needn't move your entire organization to the platform. And he acknowledged that even Google will need to take its time moving the platform. "You can move at your own pace, in small groups and chucks," he said. "There are people at Google who spend all their time in a browser, who use nothing but web apps, and for them, it's a seamless move. But there are people even on my team who do hardware stuff, and for them, it's not yet ready."
Well then, the truth comes out. ®
Sponsored: Minds Mastering Machines - Call for papers now open