Play prices up HTC 'superphone'
Sensational offer
Want HTC's "superphone", the Android-running Sensation? Put your order in now and you can have it for 500 quid Sim-free.
Online retailer Play.com has posted the price and has begun taking advance orders. The handset will ship on 30 June, it says.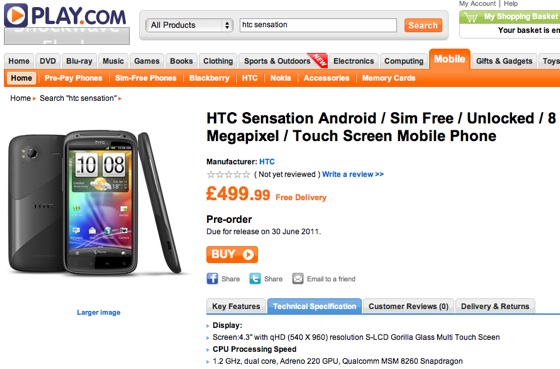 HTC announced the Sensation in March. The smartphone features a 4.3in, 540 x 960 screen, Android 2.3 Gingerbread, a 1.2GHz dual-core Qualcomm Snapdragon processor and a camera capable of shooting 1080p video.
Vodafone and Three have already announced they will be offering subsidised Sensations. ®
COMMENTS
Superphone - Yeah right?!?
Does it pick up Freeview and a built-in pico projector? Probably not!
Epic fail... not looking into features given by lesser phones
And to top it off...
No DAB! Still no DAB... So much for a multimedia superphone!!!!! EPIC by proportion!!!