Next you connect your Blu-ray player or set top box to the HDMI input on the soundbar and hook another HDMI cable back from soundbar to your TV. That way you can switch between sources by just hitting the TV or BD buttons on the credit card sized remote. However, if you've got a new TV with a HDMI port that supports Audio Return Channel you'll only need a single HDMI lead running from your TV's ARC port to the soundbar's HDMI input.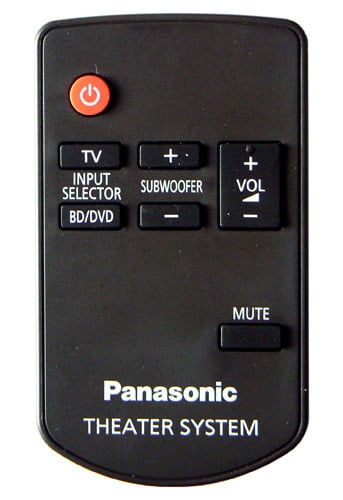 Remote includes subwoofer control
The remote gives you control over not just the main sound level, but also allows you to adjust the volume of the subwoofer, which is handy when you need to keep bass levels down at night.
The soundbar's onboard decoder can handle both DTS and Dolby Digital, although sadly higher quality formats like Dolby TrueHD aren't supported. The decoder uses Dolby Digital Virtual technology to create pseudo surround sound. This does help broaden out the stereo soundstage quite considerably, but it doesn't delivery a real rear channel experience in the way the Yamaha YSP-2200 does.
Nevertheless, movie soundtracks have a much more enveloping feel when fed through the HTB520 than when they're delivered via normal TV speakers. The subwoofer also adds considerable bass thump which is excellent for explosions, car crashes and other shenanigans in action movies. The sub is also nicely balanced with the main speakers and the soundbars's Clear Mode setting helps dialogue to punch through background music and effects without making it sound out of place in the mix.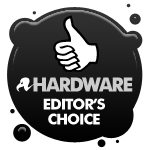 Verdict
Overall, the Panasonic SC-HT520 is one of the best soundbars on the market right now. It's neatly designed, easy to use and delivers plenty of sonic thrills at a reasonable price. ®
More AV Gear Reviews...

Teufel
System 5
Harman Kardon
SB 16
Samsung
HT-C6930
Eight…
spatial soundbars
Sony
BDV-E370

Panasonic SC-HTB520 soundbar
2.1 soundbar with all the right trimmings.
COMMENTS
Nice
I love the way the HDTV "revolution" has downgraded audio so now in addition to paying a premium for an HDTV you can now pay £330 to get sound you should have received in the first place. And an extra power source needed as well.
At least with CRT TVs you received decent sound for the most part with latter models bundling in SRS 3D and WOW. External speakers have now become almost more of a necessity than a luxury.
Computer speakers are better
You can get the same result with a nice set of 2.1 computer speakers for around $100. Not digital, I suppose, but that analog signal has to be converted to digital sometime, might as well be at the TV.
Ah but some of us have families etc...
I bought a 42" Panasonic last year, mainly for the world cup, equally because the old CRT was on its last legs and I fancied a new toy. This sound bar looks ideal for what I want. The TV sound is ok; when we want something on 'big sound' the sound goes through the decent stereo system, which doesn't work too well as the speakers aren't either side of the screen so good sound comes from either side of the fireplace, the good picture is over there in the corner of the room.
I (as in 'we') don't want another set of boxes to give us full surround sound, and another set of speakers taking up even more space. This neat little solution is the answer, esp as I've got hacked off with Apple not being able to make iPads fast enough so have abandoned any desire to buy one and now have more than enough dosh in my New Bike Fund to buy one of these.
Most TV speakers I heard were crap.
I know there are some exceptions but most people I knew who went for a larger-than-normal TV, or updated to Widescreen, or whatever used separate speakers and amps.
If you're spending a stupid amount of money on a large HD set and you don't have a separate sound setup then I would think you'd be in the minority.