Panasonic SC-HTB520 soundbar
Sound option for puny panels
Review TV manufacturers are keen to push the merits of picture quality on the latest sets, but unfortunately sound quality seems to have been lost somewhere along the way due to the tiny speakers manufacturers cram into their slender frames. It seems as if most expect you to twin their sets with surround sound systems. If you haven't got space for a full home theatre set-up, a soundbar may be more suitable audio upgrade.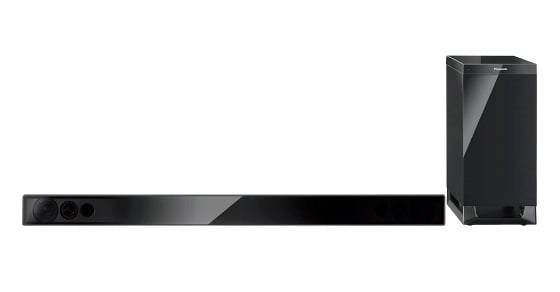 Raising the bar: Panasonic SC-HTB520
Panasonic's latest offering consists of a soundbar that houses three speaker drivers on each side and works in conjunction with an active subwoofer. Together this is enough to kick out a racket that equates to a full 240watts of RMS sound – easily enough to fill a front room with neighbour-bothering levels of sound.
The subwoofer is wireless so you can place it pretty much anywhere you like in your room, while the main soundbar can either be sat in front of your TV on its short, rubber legs or wall mounted using the brackets that are supplied in the box.
Unlike a lot of soundbars, this one has a very low profiles design, so it's unlikely to block your TV's remote control IR sensor when it's sat in front of it. However, if it does, Panasonic has cleverly include an IR relay system, where the front of the soundbar registers your TV remote control commands and then passes them on to the telly via a small IR blaster. It's this type of attention to detail that separates this model from many of its competitors.
Integrating the soundbar into your system is pretty straight forward. There are two connection options on the rear: HDMI and optical digital audio. In a typical set up you're likely to run an optical cable from your TV's digital output to the optical input on the soundbar.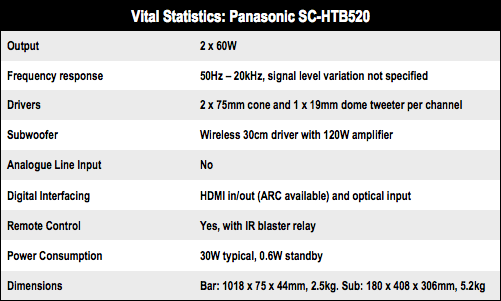 COMMENTS
Nice
I love the way the HDTV "revolution" has downgraded audio so now in addition to paying a premium for an HDTV you can now pay £330 to get sound you should have received in the first place. And an extra power source needed as well.
At least with CRT TVs you received decent sound for the most part with latter models bundling in SRS 3D and WOW. External speakers have now become almost more of a necessity than a luxury.
Computer speakers are better
You can get the same result with a nice set of 2.1 computer speakers for around $100. Not digital, I suppose, but that analog signal has to be converted to digital sometime, might as well be at the TV.
Ah but some of us have families etc...
I bought a 42" Panasonic last year, mainly for the world cup, equally because the old CRT was on its last legs and I fancied a new toy. This sound bar looks ideal for what I want. The TV sound is ok; when we want something on 'big sound' the sound goes through the decent stereo system, which doesn't work too well as the speakers aren't either side of the screen so good sound comes from either side of the fireplace, the good picture is over there in the corner of the room.
I (as in 'we') don't want another set of boxes to give us full surround sound, and another set of speakers taking up even more space. This neat little solution is the answer, esp as I've got hacked off with Apple not being able to make iPads fast enough so have abandoned any desire to buy one and now have more than enough dosh in my New Bike Fund to buy one of these.
Most TV speakers I heard were crap.
I know there are some exceptions but most people I knew who went for a larger-than-normal TV, or updated to Widescreen, or whatever used separate speakers and amps.
If you're spending a stupid amount of money on a large HD set and you don't have a separate sound setup then I would think you'd be in the minority.