Firing squad
Instructions are issued through an intuitive context-sensitive radial menu, where, among other commands, you can order offensive and defensive manœuvres, radio for air support, and even call for a medic when injured. While the system works well to prompt specific actions, your fireteam's AI proves less convincing. Squad members fail to fulfil their individual specialisations – the Scout's dire sniping accuracy the most apparent failing.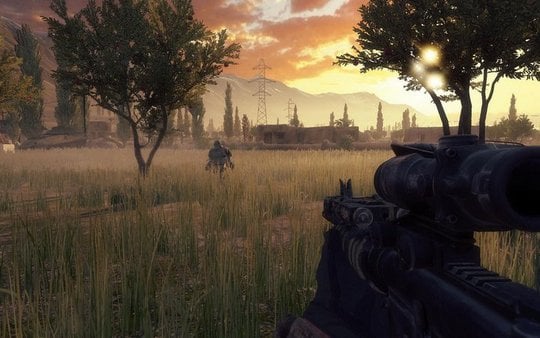 Open season
Discipline too, is a constant problem, with your fireteam often crouching the wrong side of cover, or stepping across your firing line. Worse still, healing constantly restless squad members, at best, leads to comical chases around cover and, at worst, to suicidal pursuits across open ground.
While a single-player play-through proves enjoyable despite the technical flaws, Red River's campaign is transformed by four-player on-line co-op. The increased discipline and accuracy of human squad mates brings out the best of the tactical mechanics. It makes completion of the game's Hardcore mode a distinct possibility, despite a complete lack of checkpoints or visual cues, such as the compass and ammo cache locations.
Keeping the focus clearly on teamwork, Red River has no competitive modes. Instead, Fireteam Engagements offers a collection of four co-op combat scenarios with highscoring and global leaderboards. Essentially campaign vignettes, they concentrate on specific gameplay elements, the best of which appear in the Last Stand and Csar scenarios.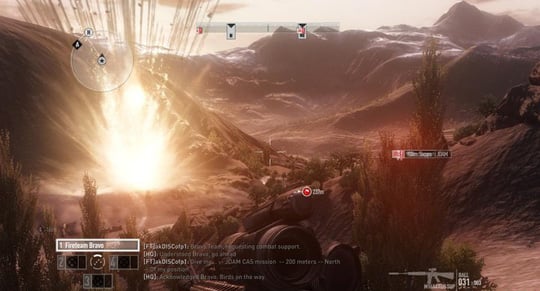 Shelling out
In Last Stand you defend a fortified position against multiple waves of enemies, with the novel twist that you can bug out at any time and safeguard your score by calling in an evac helicopter. Whereas in Csar, you're tasked with a Black Hawk Down-style rescue mission to locate and extract a downed helicopter crew from deep behind enemy lines.
COMMENTS
Sir
"by Al Mathews (Apone from Aliens)"
"Assholes and elbows people, we 'aint payin' you by the hour! " great line
Codemasters
After the constant developer lies and broken game that was Operation Flashpoint 2: Dragon Rising, I'm sure that there are great many people like me, who will never buy another Codemasters game
Realism is the point
In your verdict I'm not sure if you are citing the high-realism as a "flaw". I hope you are not as this was the whole point of the game. First OF will stay with me for a long time, just for the shear effort and realism it created. I like COD and BF (many happy memories on 64 player BF1942) but they are not realistic
My thoughts
Have to say its a whole lot easier than the first OF however it is the better for it.
I much prefer the lack of John J moments and the requirement to think about how to take a location.
It is very much a 4 player coop game but well worth the effort.
Just so you know...
While Al Matthews does provide a voice-over for the game, it's for Battalion Commander Col. Shannon J.Hardaway, not SSgt Knox.
That's quite the mistake there El Reg, but one that quite a few sites have made. Not that I'm saying you just copied other places of course.
Thumbs up for the review in general and for the game.