Conflict zone
Notwithstanding its puerile narrative, Red River presents a more cerebral approximation of conflict than most other games. The campaign's ten hour-long missions are broken up into enclosed engagements, interposed with hikes across huge terrains and lengthy transports in troop helicopters and open-top Humvees.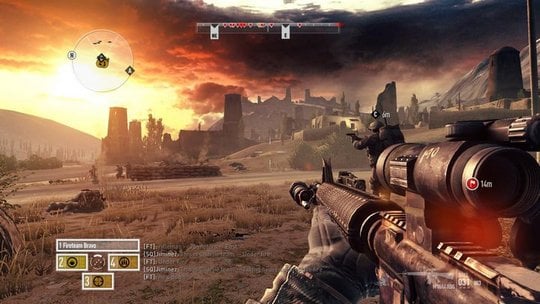 Red sky at night, sniper's delight
Firefights often take place at considerable range, but are nonetheless deadly. Just a few bullets can kill, and you can bleed out from minor wounds if left untreated. But while single bullets can kill enemies, it takes many more to find your mark, with red-dot sights and magnified scopes offering a more authentic guide to bullet trajectories than the lethal cursors of the blockbuster FPSs.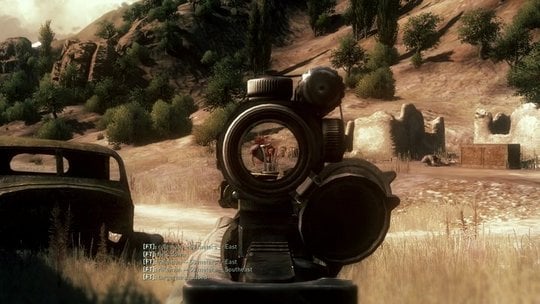 Second sight
Once again, gameplay is divided between standard FPS gunplay and tactical command of your four-man fireteam, which consists of a Rifleman, Scout, Grenadier, and the LMG-toting Automatic Rifleman. Your squad isn't just there to make up the numbers, though.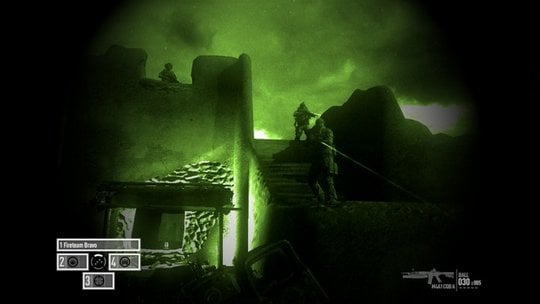 Night stalker
Red River's AI might be erratic at times, with enemies occasionally facing the wrong way or standing motionless in the middle of a road, but you'll need precise co-ordination of your squad to combat an enemy that generally uses cover and flanking well, and often ambushes you from the most unexpected places.
COMMENTS
Sir
"by Al Mathews (Apone from Aliens)"
"Assholes and elbows people, we 'aint payin' you by the hour! " great line
Codemasters
After the constant developer lies and broken game that was Operation Flashpoint 2: Dragon Rising, I'm sure that there are great many people like me, who will never buy another Codemasters game
Realism is the point
In your verdict I'm not sure if you are citing the high-realism as a "flaw". I hope you are not as this was the whole point of the game. First OF will stay with me for a long time, just for the shear effort and realism it created. I like COD and BF (many happy memories on 64 player BF1942) but they are not realistic
My thoughts
Have to say its a whole lot easier than the first OF however it is the better for it.
I much prefer the lack of John J moments and the requirement to think about how to take a location.
It is very much a 4 player coop game but well worth the effort.
Just so you know...
While Al Matthews does provide a voice-over for the game, it's for Battalion Commander Col. Shannon J.Hardaway, not SSgt Knox.
That's quite the mistake there El Reg, but one that quite a few sites have made. Not that I'm saying you just copied other places of course.
Thumbs up for the review in general and for the game.