WTF is... IPv6?
Address to impress
Go Gamers
In fact, you're more likely to have IPv6 headaches if you rely on hosting and manage your own server. Host UKFast's Neil Lathwood told me that while managed clients will have the work done for them, others will have assistance available on a consultation basis. 1&1 plans to have plenty of FAQs available to help – but it may still be a daunting task for some site owners.
If you're planning to buy hosting, I'd advise you to check it's IPv6 ready. For example, the Plesk 9 control panel doesn't allow you to add AAAA records to the DNS, so even if you have IPv6 services elsewhere, if you rely on Plesk for setting up DNS, you'll be stuck.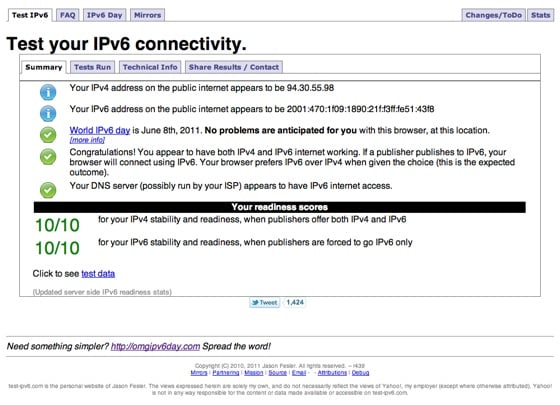 Are you ready?
Gamers are often at the forefront of PC technology, and they could help push IPv6 adoption. World of Warcraft, for example, is already IPv6 capable, though not yet running with it. This could become increasingly important, as the remaining IPv4 addresses are used up, forcing ISPs to use NAT techniques, rather than giving each customer a public IP address.
That will make it hard to use some games, as well as services like Skype or remote NAS access, and leave customers relying on the public address they receive via IPv6 for such applications, unless they're willing to pay extra for an increasingly scarce public IPv4 address.
According ISP AAISP's Adrian Kennard, we could see this starting to happen in the next year or so, depending on how many addresses ISPs have in reserve – and if your ISP doesn't tell you, the first you may know is when some things stop working because of the address translation.
World IPv6 Day is a trial, to allow the companies involved to see what problems there are with providing their content via IPv6. For consumers, the key thing determining when you'll see IPv6 is going to be the availability of those broadband routers, finally allow it to be deployed to non-technical customers.
That, hopefully, will start to happen over the next few months. And that's when the fun will really begin. ®
Sponsored: Minds Mastering Machines - Call for papers now open