WTF is... IPv6?
Address to impress
End of the Road?
Perhaps the most important thing to realise is that IPv4 isn't going to go away any time soon. Too many devices rely on it to make it easy to simply switch off. Connected TVs, games consoles and the like may not support IPv6 at all.
But your computer almost certainly does – all modern operating systems can run IPv6 alongside IPv4. Once I enabled IPv6 on my network, I didn't have to do any configuration on my Mac, for example. It just autoconfigured itself, allowing me to browse IPv6 websites in Safari.
Although there are some sites in China that use only IPv6, most people are unlikely to come across such a beast for many years. But many ISPs contacted by Reg Hardware said they have plans to roll out IPv6 to their customers, and some anticipate being able to provide routers capable of handling it within the next few months, as a matter of course, at prices cheap enough to give away with connectivity.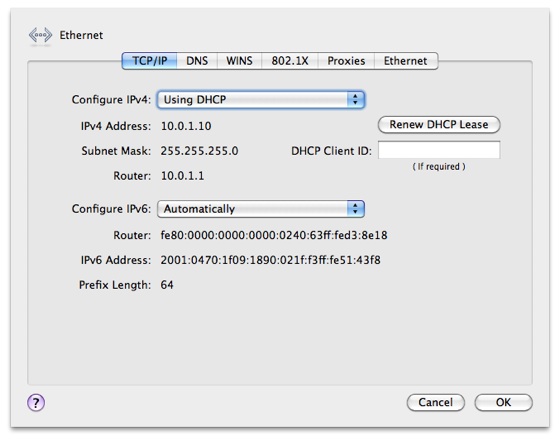 Sorted: personal computer operating systems already support IPv6
While it's possible to use just IPv6, and a technology called NAT64 to allow access to IPv4 sites, most users are likely to have both version on their networks for years to come.
Typically, a broadband customer will be given a set of IPv6 addresses for their network, and the router will also provide an IPv4 address and NAT (Network Address Translation) for devices that can't use the new protocol. The big change for many people is that all their IPv6 devices will be publicly available to the net. That will make setting up many devices much simpler, but also reinforces the need for a proper firewall in the router.
When you request a website in your browser, it will request an IPv6 address - a new DNS 'AAAA' record - and if there is one, then it'll connect using IPv6. If there isn't, then the existing A recording, pointing to an IPv4 address, will be used.
Similarly, most other software will work seamlessly. Connecting to my office mail server was just a matter of turning on IPv6 in the Postfix config file, while an ssh needed no work.
Largely, once you have IPv6 on your network – itself plug and play, with many systems auto-configuring using the network prefix and then their Ethernet MAC address to make up the rest of the IPv6 address – you won't even notice, unless you visit sites that are IPv6 only, which you couldn't reach before, or that explicitly tell you how you connected, like kame.net.
Sponsored: Minds Mastering Machines - Call for papers now open