WTF is... IPv6?
Address to impress
On the 8 June, it'll be World IPv6 Day – a coordinated effort by major services on the internet, including Google and Facebook, to provide their services using the new version of the Internet Protocol. It's part of the plans to cope with internet addresses 'running out'. But just what is IPv6 - and what does it mean for most users?
At its most simple, IPv6 is the successor to IPv4 which has become the de facto standard for both local and global connectivity. It includes many extra features, including processing speed-ups, and enhancements to security and to quality of service, but the one that's really driving the need to change is that there are many more internet addresses available with IPv6.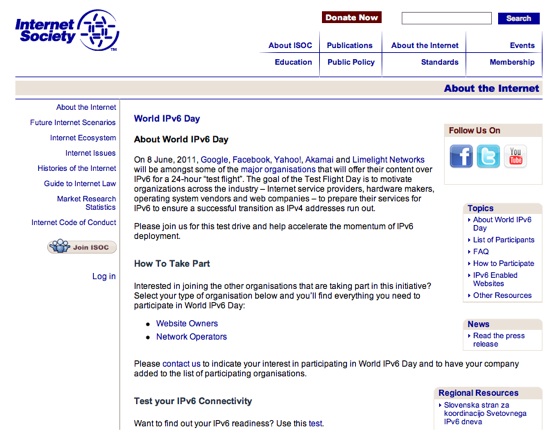 Global testbed: World IPv6 Day takes place next month
Most Reg Hardware readers will be familiar with the look of an IPv4 address: it's 32 bits long, and typically written as a series of four eight-bit decimal numbers, separated by full stops, like 10.0.0.1.
An IPv6 address is 128 bits long, and usually represented by groups of four hexadecimal digits, separated by colons. Each of those four digits represents 16 bits, so there are up to eight groups, giving IPv6 addresses that look like 2001:0470:1f09:1890:021f:f3ff:fe51:43f8.
That's obviously quite a lot to type when you're trying to ping a router, so there's also a shorthand, allowing addresses like 2001:0470:1f09:1890::0002 where the :: means a series of groups each of which is 0000.
One of the things you'll notice about those two addresses is they both start with the same sequence, referred to as the 'prefix', which in this case is 64 bits long – which is likely to be the typical allocation from an ISP. In other words, you'll receive more addresses for your home network that then whole of the IPv4 internet.
So, an IPv6 address looks big, and they won't run out. But what does this really mean to you at home?
Sponsored: Learn how to transform your data into a strategic asset for your business by using the cloud to accelerate innovation with NetApp