TMS flash array blows Big Blue away
Creams SPC-1 result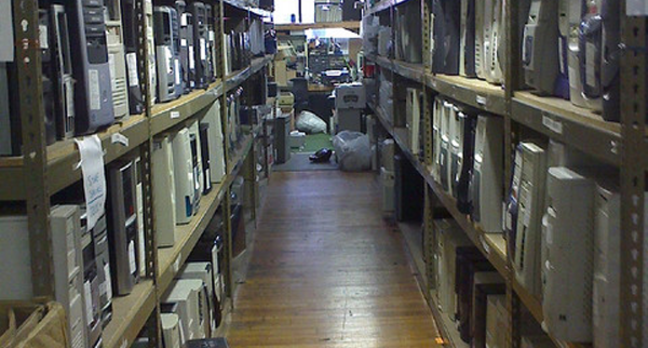 Texas Memory Systems has absolutely creamed the SPC-1 storage benchmark with a system that comfortably exceeds the current record-holding IBM system at a cost per transaction of 95 per cent less.
TMS submitted a RamSan-630, a 3U box holding 10TB of single level cell flash that delivers – according to TMS – one million IOPS (10GB/sec) random sustained throughput, and 500 watts power consumption. It scored 400,503.2 IOPS compared to the 380,489.3 achieved by a six-node IBM SAN Volume Controller system with two back-end DS8700 arrays, at a cost of $18.83/IOPS.
Here's where the TMC box just blew Big Blue away: the RamSan-630's price/performance was $1.05/IOPS, 5 per cent of the IBM figure – or 95 per cent less, looking at it another way.
The IBM system needed 294.7TB of configured disk – we counted 2,048 146GB 15,000rpm drives – to deliver Application Storage Unit (ASU) capacity of 97.582TB. Its total system cost was an eye-watering $7.17m. The RamSan-630 cost $419,000, less than 6 per cent of the IBM system's cost. It needed 13.744TB of raw flash with an ASU of 8.117TB – far less storage capacity than the SVC system.
A TMS RamSan-620 achieved 254,984.21 IOPS at a cost of $1.13 in October 2009. It needed 4.9TB of SLC flash and the total system price was $287,858. The RamSan-630 also comfortably beat the IBM SVC system in terms of latency.
There is surely no point in IBM – or any other vendor – trying to beat TMS on the SPC-1 benchmark with anything other than its own flash-based system.
Also, given these numbers, why would anyone with a workload resembling SPC-1 and needing, say, more than 100,000 IOPS, choose anything other than a flash-based system?
SPC-2
TMS also submitted the RamSan-630 to the SPC-2 benchmark. This consists of large, sequential I/O generally required by file processing, database query, and video-on-demand applications. A single InfiniBand-attached RamSan-630 produced 8,323.13 SPC-2 MBPS with an SPC-2 price-performance of $49.37 per SPC-2 MBPS.
The top MBPS score is held by an IBM DS8800 with 9,706.74 and a price performance of $270.38. An HP XP24000 array scored 8,724.67 MBPS with a price performance of $187.45 while an HDS USP-V achieved the same MBPS number with its price-performance being marginally different at $187.49
The RamSan-630 was in the same MBPS ball park, but substantially cheaper, showing that it does well in the high-bandwidth area, as well. All in all, these are a good couple of benchmarks for TMS – and ones it hopes will help slay the high-performance storage array business. ®
Sponsored: Application managers: What's keeping you up at night?