Tomorrow's tech demoed with free pizza and beer
Augmented reality, cloudy toothbrushes, new friends to sleep with...
Search inside video clips
Reelsurfer reckons it has the solution to the ever-increasing stockpile of videos that the modern world is creating with little or no ability to track what is actually in them.
Built by two Stanford graduates, Reelsurfer is software that lets you search within videos and create simple clips that you can then forward on. The search function relies on there being a transcript associated with the video – an issue that a number of companies, including our favourite, dotSUB, are working on.
The clipping system is very intuitive – just drag clip bars and hit save – and has immediate and obvious uses. It's not hard to imagine the Facebook generation taking to it within minutes (to match their attention spans). You can download, embed, share clips on social networks, and so on.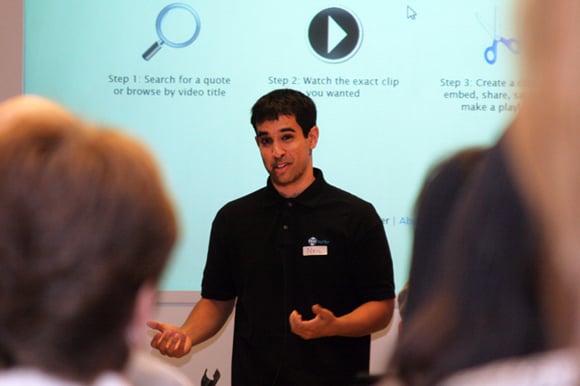 Reelsurfer's founder Neil Joglekar
Founder Neil Joglekar learnt early on that Reelsurfer wasn't going to allow him to grab clips willy-nilly – the MPAA is all over that one – so wisely the company licences out its platform to content owners for a few hundred dollars a month.
They're aiming at Hulu, Ustream, and the wealth of new online video providers, and a key selling point is what Joglekar claims is a kick-ass analytics tool that lets you see which videos and which parts of videos people are watching. Expect to see this capability coming soon to your favorite video provider.
Tripping. Far out
The Internet always works best when it connects people, and Tripping is one more way to do that.
With a focus on people who are travelling and want to meet up with locals, plus find a place to stay for the night, the website connects people through location, interests, and so on.
Tripping sounds like a million other websites, but it's put together so well that it you could easily find yourself using it. And apparently it's not just travelling teenagers that like it: retirees and families are also keen.
The social tie-ins are all there, complete with a way for you to build your reputation, and the site is linking up with associations and organizations – they name AmeriCorps and Dartmouth University as two – so you can find others with whom you already have a connection.
Two cofounders Jen O'Neal and Nate Weisiger have used some of the knowledge they gleaned from StubHub to create a simple, easy-to-use service, and wisely pegged safety as a top priority. They hope to make money from partnerships with accommodation providers and airline sites, or by providing company-branded versions for a monthly fee.
SVNewTech: small is beautiful
The tripping element tied in neatly with the ethos of the meet-up itself. The whole SVNewTech vibe is what you could call "very Californian" – relaxed, friendly, and free. And it plans to stay that way, according to organizers Joe Robinson and Nisha Baxi.
SVNewTech was founded by Vinnie Lauria, who is currently touring Asia for a year but who linked up with the May 3 meeting via Skype to give updates about his travels and the various tech meetings he had discovered in China and Singapore.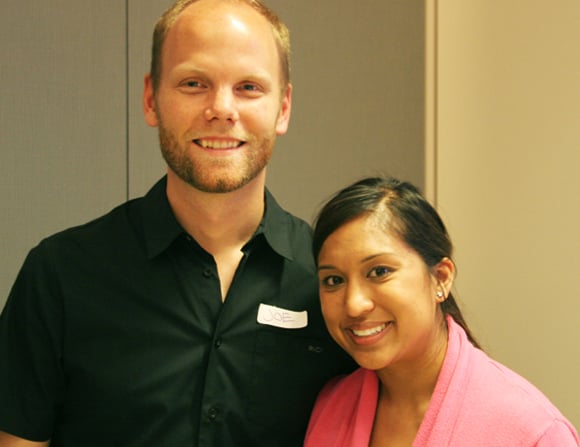 SVNewTech organizers Joe Robinson and Nisha Baxi
The meetings are currently held in a boardroom lent to the group gratis (along with the pizza) by the international law firm DLA Piper. It's a tight fit for the popular event, but although "We've thought about moving to a bigger space," Baxi says, the two organizers fear that a move could ruin the feel of the monthly meet-up.
Robinson and Baxi receive about 30 to 40 pitches a month and choose four, with a focus on consumers, and on looking ahead to the next wave of technology. From the demos displayed this month, they're clearly succeeding. ®
Sponsored: Minds Mastering Machines - Call for papers now open