Spotify's music manager makeover - does it work?
Join their download club, use your iPod, scratch your head...
Buying stuff
The other major shift is the new emphasis on acquiring music to keep.
Spotify has had a download store, giving you DRM-free MP3s via 7Digital, for a couple of years. Until last week, it looked like this:

The old buy option
Previously, buying MP3s to keep wasn't integrated with your Spotify account info.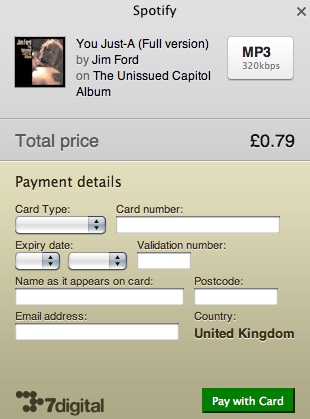 The old style "buy" pop-up
Now it is.

The new style buy option
For a Premium User, signing into the new MP3 store is much like signing into the iTunes store. It's much easier to buy stuff now. The default option is "Buy one for £1.15" – which is a way, I guess, of skimming off mug punters. But it's merely one of several options. Here are the others: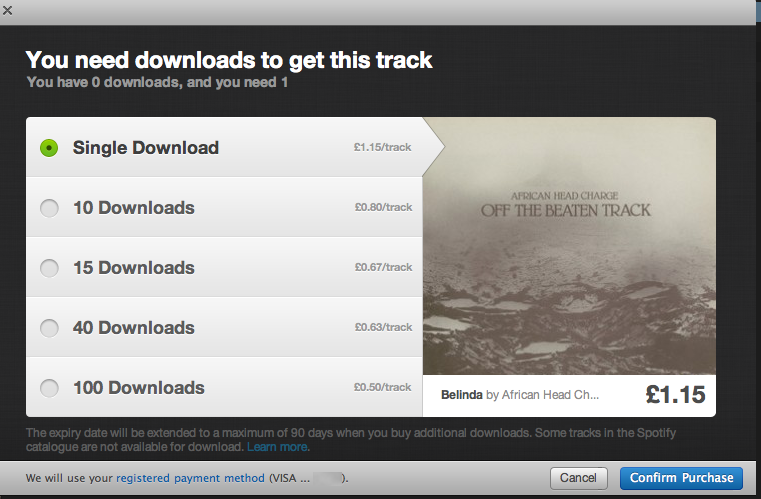 Buying a bundle: don't blame Spotify for the pricing inflexibility.
Essentially, you're opting into a pre-pay membership club. Spotify gives you volume discounts. These are fairly modest at low volumes: if you pledge £50 up front, then each MP3 will cost 50p.
This is cheaper than iTunes store, and Amazon's standard pricing. But read on – the picture is much more complicated, and pricing strategies around the web leave the honest punter looking at much better deals elsewhere.
Conclusion
I was an early adopter of Spotify, but an early departee too. At first I was in awe of its performance, which seemed to stream music faster over the network than if it was stored locally. When Spotify added mobile support, it seemed quite the novelty to pick an album from its vast library a few minutes before heading home, to hear it all on the ride home. But that turned out to be more of a theoretical feature than the reality. Spotify on the iPhone was hampered by the lack of background multitasking in iOS 4 – more often that not you'd have a partial download. At other times, playlists that had been safely cached for months would suddenly disappear.
It seems ironic that the more technology we have for managing music, the more time we have to spend farting around to check that something will play when you expect it to. We should have banished this years ago along with DRM, but it has become even less deterministic.
Really, I lost interest for two reasons. I found it a pointless overhead to maintain two libraries, with two sets of playlists, two UIs, and two metadata systems. This stuff is important when you listen to a lot of music and have a poor memory for names. Something had to give.
But I also like to keep stuff I've bought. I like to make a conscious purchasing decision, take my money elsewhere if I have to – and I think the last 10 years of "free" web services that come with lots of strings attached – such as a mortgage on your soul – justify that logic. I want to buy an MP3 and take responsibility for it after that. I don't want fricking "access", or to rent stuff that disappears, thanks.
You can argue that younger music fans don't have such concerns: I'll point out they may yet experience losing something they value, and ask them once they have.
Not everyone shares this concern – but Spotify's latest venture tries to remedy two of the biggest complaints: the silo factor, and the lack of purchasing. It's a decent but not quite successful attempt to marry the two, without steering off the course it initially set.
The new bundle pricing experiment is interesting, but it is also the more disappointing – if not entirely surprising. Apple knows you need iTunes to backup, buy apps, and sync – even if you never buy music. Amazon is a giant retailer that can play games with pricing.
Content suppliers have always had several price tiers: in Amazon's Top 10 alone you'll find both the recent hit Adele record for £7.99 and its predecessor for £3.99. Record companies know they can shift back catalog with more attractive prices, and have always done so. On top of this traditional flexibility, Amazon uses its immense buying power to play some interesting games. It will discount some to £4.99 or even £3.99.
So even if you pledge £50 up front for Spotify's bundles, unless you shop around, you may not be getting a great bargain.
The combination of online-Spotify, offline-Spotify and offline-"yourowncollection" can also be confusing at times, and needs some usability work. Ideally it's not a problem that should ever appear, and if you buy all your music in a nice portable format such as MP3, it never does. But it'll drag on for years I suspect.
I think Spotify is undoubtedly much more attractive than it was a week ago. But YMMV. Let me know how you get on. ®
Sponsored: Minds Mastering Machines - Call for papers now open