Microsoft Skype: How the VCs won and Ballmer overpaid
Is Skype his next aQuantive?
Success is what it is
In that respect, the Skype acquisition is no different from Microsoft's purchase of Great Plains Software in 2001, whose ERP software became the Dynamics business applications suite including CRM and was integrated with Office and Outlook. Microsoft bought Great Plains to get a foothold in the market among small and mid-sized companies and to head off Oracle while choking out Sage. Microsoft paid $1.1bn for Great Plains, but that was stock not cash.
Incidentally, there are other echoes of Great Plains in Skype. When that company's founder and owner Doug Burgum joined Microsoft, he was granted a great deal of independence over the roadmap and product development, and became senior vice president of the business solutions group within the business division. When Great Plains transformed into the Dynamics suite and was shuffled around, he left Microsoft - six years later.
The other big thing of immediate concern to Ballmer will be putting Skype calls and especially video conferencing on Windows Phones. Giving handsets running Windows a video-conferencing capability would give people another reason not to buy an iPhone, which does have rudimentary video conferencing.
If Microsoft hadn't bought video conferencing then it would have had to build it. Skype bought video-sharing service Qik for $100m in January; Qik already runs on Sprint and T-Mobile handsets. Now it's just a question of extending the software.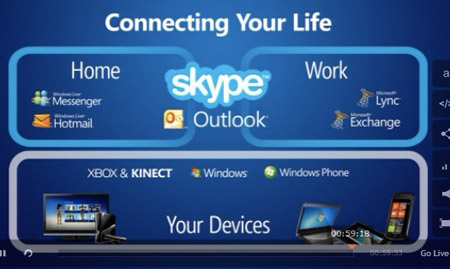 How Microsoft sees Skype fitting into its software stack
However, Skype on mobile is a huge gamble for Microsoft and for Windows Phone. Phone makers are one thing, but it's the carriers that Microsoft must win at a time when it's trying to convince them to accept phones running Windows Phone on their networks.
Carriers as a breed don't like Skype because its Voice over IP (VoIP) calls rob them of landline minutes and nibble at their mobile calling plans. As such, carriers have either blocked Skype on handsets or imposed additional charges, killing the "free" aspect of the service. Bates' predecessor Josh Silverman reckoned that just Verizon in the US and 3 in Europe were friendly to Skype, while Skype did the one thing besides offer free VoIP calls that was sure to stick in craw of carriers when it campaigned in the US for net neutrality rules to force the carriers into accepting the kind of government direction that would mandate they accept Skype on their networks.
Windows Phone 7 comes on US phones on AT&T, T-Mobile, and Sprint, while in Europe Orange and Deutsche Telekom are among those providing services for phones.
How are the carriers taking Microsoft's purchase of their landline, data plan, and political nemesis Skype, Steve? "We heard back this morning from carriers who are enthusiastic," Ballmer said, "but we have some work to communicate the broad set of advantages."
Microsoft is Skype's second owner. Unlike eBay and certainly unlike the rumored Google and Facebook deals, a deal with Microsoft has more going for it. With Lync, Office, Outlook, Exchange Server, and through Office 365, Microsoft has the software stack for business that means Skype could add some money to Microsoft's bottom line. Owning Skype also offers Microsoft a prospective comeback to the iPhone on video conferencing for Windows Phones.
Beyond that, the deal is questionable and it looks like Microsoft might have overpaid. Ballmer spent $8.5bn to sell more software and to outflank Apple. The ads story and Skype's revenue are works in progress. Integration with Xbox is futures. Ballmer was in the market looking to make a deal: he decided to make an unsolicited bid and signed the deal Monday evening.
Asked Tuesday how he'll measure the success of owning Skype, Ballmer said the normal factors would apply, but didn't elaborate. He's no doubt hoping that by breaking with precedent by running Skype as a separate entity supporting platforms other than Windows, Skype doesn't become his next aQuantive. ®
Sponsored: Minds Mastering Machines - Call for papers now open