Israeli hover-jeep returns to flight testing
Would you trust a robot to fly out your injured buddy?
The "AirMule" robot hover-jeep being developed in Israel is back in flight tests following modifications: but the radical ducted-fan VTOL craft still has yet to fly untethered.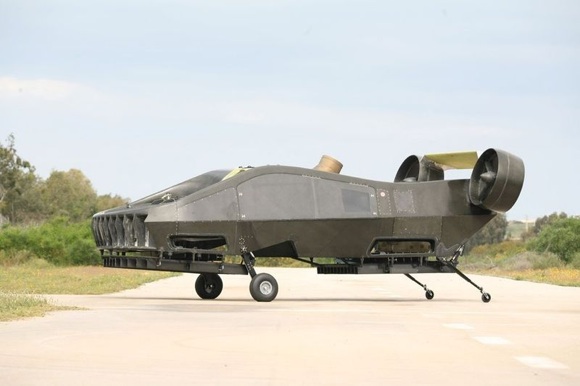 Easier to push about on the ground, too.
According to makers Urban Aeronautics:
Our AirMule prototype has recently resumed its flight testing after a systems and structural upgrade that lasted 4 months. The vehicle is now flying with an expanded sensors suite and the new, energy absorbing wheeled landing gear ... Initial results from the tests look very promising.
The AirMule's original skid-type landing gear has now been replaced by a wheeled undercarriage evidently able to absorb greater shocks. According to Urban Aero, the wheels will also permit rolling takeoffs, which will (as is also the case with helicopters, tiltrotors, jumpjets etc) permit the AirMule to get airborne carrying a greater load than it could lifting off vertically.
Urban Aero's "fancraft" designs - the AirMule is the only serious one as yet to move off the drawing board - use ducted fans, essentially enclosed helicopter rotors, for lift. The addition of proprietary Venetian-blind style slats to direct the air flow, coupled with modern fly-by-wire controls, is expected to conquer the traditional disadvantages of ducted fan aircraft: an Urban Aero offering will be easy to fly and will not need to tilt itself to maintain a hover in windy conditions, nor to achieve cruise power.
The firm has plans one day to offer manned craft, but for now it is proceeding with the unmanned AirMule. It's hoped that military customers might use the robot hoverjeep for resupplying embattled troops fighting in cities, where the fancraft's precise-hover abilities and the fact that it can't smash off its rotors as easily as a helicopter might let it carry out missions that choppers couldn't.
Unpiloted aircraft seem unlikely to take up a routine troop- or passenger-lifting role in today's climate, but it is thought that the military might use them for casualty evacuation as well as resupply. More traditional unmanned missions such as surveillance and strike wouldn't call for the AirMule's specialist design and aren't really seen as likely roles for it.
Manned, future versions of the AirMule would be quite close to being full-fat Jetsons flying cars in some respects: they would be somewhat quieter than helicopters and would offer not just full VTOL but a rock-steady hover providing "comfortable access" to high-rise windowsills, according to company reps. By necessity, having developed from an unmanned craft intended to operate in a difficult comms environment, manned "X-Hawk" hoverjeeps would need no highly-trained pilot - they would be quite capable of flying themselves with only minimal supervision.
However, Urban Aero long ago gave up on the idea that its designs could fly powered by ordinary, low-maintenance engines of the sort found in cars. The AirMule is powered by a gas turbine, so it will never be cheap or really very quiet. Furthermore the need to keep the main lift fans large is such as to dominate the craft's layout - payload, machinery etc must be packed in around the edge of the fan disc. This minimalist deck plan may mean that future designs are sufficiently awkward as to be hard to love.
Certainly Urban Aero has struggled to attract major backing and development is proceeding slowly as a result. "We are now working to secure additional funding that will carry us through the next few years and up to full scale development and production", says the firm. ®