Hologram communication - Star Wars

Since witnessing Princess Leia send Obi-Wan a holo message in Star Wars, I've dreamt of getting my hands on such a gadget. Perhaps even more so than Carrie Fisher herself. Decades later and unlike dated tech and ageing film stars, the concept of hologram communication hasn't lost its excitement. But for how long will it continue to rouse? It may have seemed completely implausible in 1977, but in this modern metropolis of machine, the construction of such tech is merely round the corner.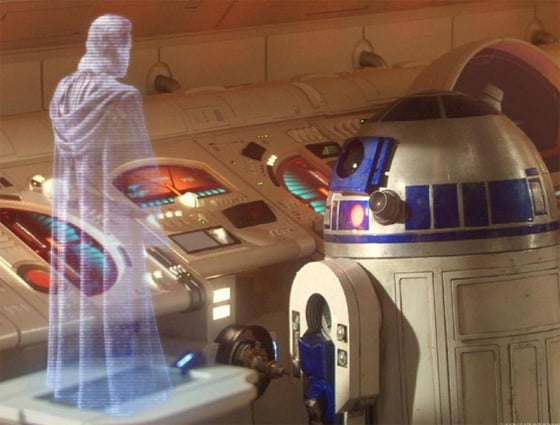 Technical limitations have meant holography has always been limited to pre-recorded videos, such as Prince Charles's appearance at 2008's World Future Energy Summit. This is also changing.
In an interview with The Telegraph, Ian O'Connell, director of Musion, a company specialising in real-time holography said: "This is cutting-edge stuff. One of the main uses we envisage is celebrity cameos at big conferences or concerts… It's going to need a room that can accommodate the screening and delivery technology. But I think we're five years away from holograms being a ubiquitous, affordable tool."
That statement was made two years ago. I patiently rub hands in anticipation. In all likelihood, holography would emerge as another 3D tech, widely slated, over-priced and completely unnecessary. At least you wouldn't have to wear stupidly oversized glasses, though.
Still, the day such tech becomes a commercial product small enough to fit in my pocket, is the day I sell my house, car and girlfriend to pay for one. In reverse order, of course.
Commercial possibility 100%
More info Star Wars
Orgasmatron - Sleeper

Time to give you a Woody. Don't get too excited, we're talking movies here.
The Orgasmatron from Woody Allen's 1977 film Sleeper, is probably the greatest sexual pleasure device ever imagined. Even the fertile Italians would want one. Blowup dolls, honeypots and phallic-shaped weapons of ass destruction would be made redundant in an instant.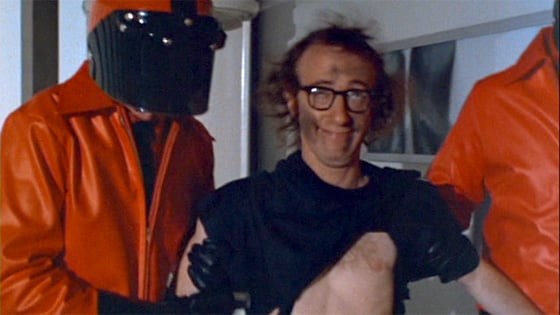 The concept is hardly original, though. From Durand Durand's pleasure machine in Barbarella to the sex-ray in Flesh Gordon, instant orgasm tools have always been on people's mind, especially men. As the late great Bill Hicks pointed out, it doesn't take much for a sexual thought to arise. Therefore the concept of an instant orgasm device, has probably been around since the beginning of time.
Arousing ourselves with an electronic machine is, as you know, hardly uncommon. However, an Orgasmatron is so superior to an average sex-toy, the comparison is futile. For $3000, surgeons will insert electrodes near the spinal cord and connect you to a function generator. This medical Orgasmatron, invented by Dr. Stuart Meloy, could be used to treat sexual dysfunction in women.
Would a walk-in orgasm room be something we openly embrace, or would it be seen in the same way a vibrator is? If it was our only method of reproduction, then of course we'd unashamedly have one in the corner of our living room. However, with current mindsets, the Orgasmatron would probably need to be small enough to fit in the back of a sock drawer. It would have to be more like The Orb, a separate pleasure tool from the same film - although I'm not sure we'd be passing it round a circle fighting over who uses it next.
Commercial possibility 85%
More info IMDB
COMMENTS
Sonic Screwdriver
"Perhaps writers for the new seasons hit a wall one day though and decided to bring it back, as they've featured the handheld tool in an array of episodes since 2005."
Call me cynical if you want, but a wand with an LED on the end and makes a high pitched warbling sound is both desirable as a toy (when backed by an entire TV series showing how cool it is) and incredibly cheap to make, which makes for a healthy profit margin.
Already invented
and it's called the hydrogen bomb.
Having said which, there are some minor wrinkles regarding the range of its effects, the unavoidable millions of fatalities and unfortunately persistent fallout which still have to be ironed out; but I can say with 100% confidence that you will never have to worry about mobile phones or personal stereos ever again.
It's also great for getting stones out of horses hoofs, warding off dangerous dogs, sterilising river water and attracting attention if you are lost in remote areas.
Yes - but
would it like you?
also a Lazy Gun please wouldn't go amiss :-)
SEP field
I still believe that Douglas Adams' "Somebody Else's Problem" field as a cheaper alternative to the cloaking device is pure genius.
I want one for my car.
Just a simple device will do me...
Something pocket-able that will kill all mobile phone reception at a small distance - like about a maximum of a train carriage away.
If it could also stop those bloody personal stereo noise machines going tishtish life would be so much improved.
P.