Motorola Xoom
A slab of 10in Honeycomb goodness
Review You will be aware that 2011 is supposed to be the year that Android tablets hit the big-time. In case you missed it, the explosion of new devices was supposed to happen at Easter. In the event, many launches have since been put back to later in the year, while other products have been launched but are plainly impossible to buy.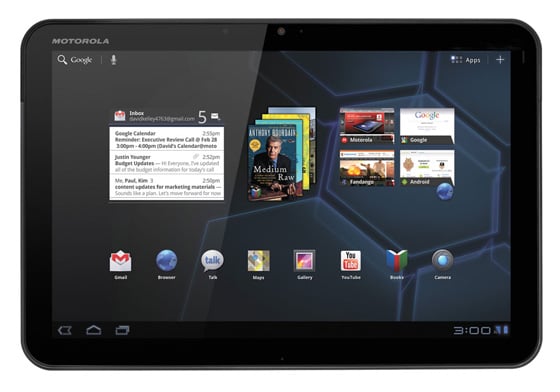 Launch pad: the Motorola Xoom's 10.1in display has plenty of space for a widget-packed home screen
So give some credit to Motorola for actually bringing its much-hyped Xoom tablet to UK stores pretty much when it said it would.
The Motorola Xoom is a tablet intended to challenge Apple's iPad head-on, with a 10.1in display, comparable built-in storage (at 32GB) and an operating system that doesn't look rubbish: Android 3.0.1 'Honeycomb'.
It does not in any way try to complete with the cheap and nasty no-brand tablets currently being shovelled onto an unsuspecting public by consumer electronics retailers who should know better. Of course, if you think £179 is good value for a plasticky tablet with a dim screen, impractically small memory and running on an operating system used for a glitchy beta smartphone from 2008, then good luck to you.
By contrast, the Xoom is an expensive hunk of quality kit. It's expensive, yes, but really nice to own and lovely to use. And that's what makes it so comparable with an iPad.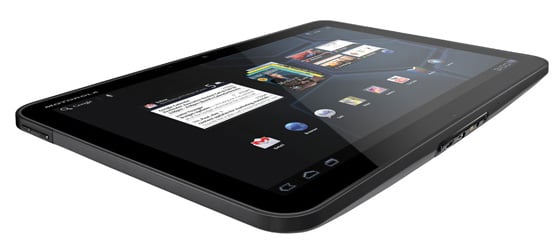 Nice and black and shiny... and thick and heavy
The device is shiny black at the front, matte black and charcoal at the rear, with a bezel around the screen area that is markedly narrower than than on the iPad. The screen itself looks smaller than the iPad's but that's because the Xoom offers a higher pixel density: it is actually a higher resolution screen at 1280x800 pixels compared to the iPad's 1024x768.
COMMENTS
Correct me if I'm wrong ...
"Motorola has opted for an on-screen navigation bar, occupying 46 pixels that can never be recovered.
This means the Xoom's effective screen area is not 1280 x 800 but 1234 x 754, so 720p content at 1280 x 720 won't be full screen after all."
Yes, but the menu bar isn't at the side _and_ at the bottom is it ? It certainly isn't in the picture, so you would be getting 1280 x 754 ( or 1234 x 800 in portrait ) which is 720p ... ( but it wouldn't be full screen - I agree with that, but would play at full resolution as 1280 x 720 is less than 1280 x 754 ... )
Asus Transformer
Should be out soon with the keyboard for even less money.
Review Soon???
Some odd design decisions
I've had a Xoom for about 4 weeks (walked into PC World on day of release and bought one off the shelf). Its a nice chunk of hardware, but Motorola seem to have made some stupid design decisions that will irritate over time :
a) No charge from USB - even if it took longer, this should be an option. Carrying a charging brick around is stupid.
b) Charging socket is on top.....and headphone jack is on bottom. Its awkward to use when charging.
c) The Motorola folio case prevents charging when closed. So my screen has to be left at risk when I leave it charging.
d) No support for device level http proxy (without third party software).
I really want this class of devices to succeed on Android - Apple need the balance to keep them in check. The OS is close, but some of the built in apps (eg. calendar) are lacking that bit of interface magic that Apple supply.
I'm developing for both honeycomb and iOS platforms but the iPad2 is the one I take home to use personally.
re: facepalm
So, you suggest that rather than buying the iPad or Xoom, the Scroll is a good alternative with a 800x480 resistive screen, Android 2.1 (with no plans to upgrade), an unidentified processor speed and a 4 hour battery life?
In this case I'd suggest that a fraction of an iPad is not worth a fraction of the iPad's price - as it's obsolete before you even unwrap it. There's a base level of functionality, below which a device is only of interest to people who collect pocket calculators.
I imagine
that the reviewer has taken that into consideration. Not to mention the fact - shock, horror - that some people prefer to use iOS even so.
Reviews have to be objective, not pandering solely to the pro or anti Apple mobs.