HP unveils biz laptops with pay-as-you-go 3G
Wireless DataPass
It's notebook-rollout day for HP. In addition to a new lineup of consumer-level lap-warmers, the world's biggest PC manufacturer has also released a trio of business-class models and inaugurated a pay-as-you-go 3G mobile broadband service.
The new ProBook 5330m Notebook PC dispenses with the multicolored Christmas lights of previous HP laptops and adopts a more professional, restrained style – not unlike, to our eyes, Apple's 2001 TiBook.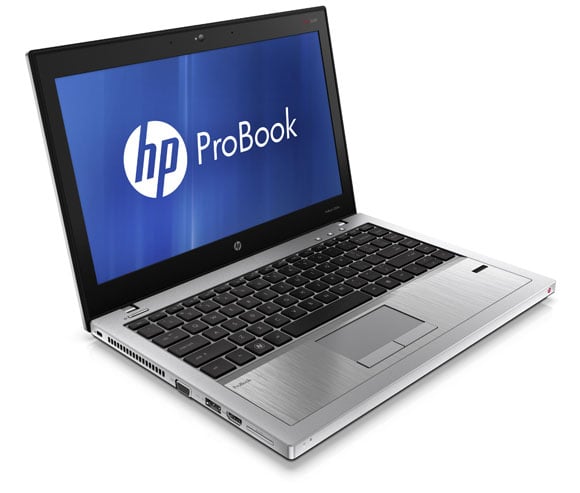 HP ProBook 5330m Notebook PC
The ProBook 5330m is available with a 2.5GHz Intel Core i5 ($899 base model) or 2.1GHz Core i3 ($799), both with integrated Intel HD 3000 graphics. Stock DDR3 SDRAM is 4GB in two 2GB SO-DIMMs, upgradeable to 8GB – or even 16GB, if you can track down 8GB SO-DIMMs and are rich enough to afford a pair. The display is a wide-screen 13.3-inch, 1366-by-768 pixel, LED-backlit affair – and speaking of backlit, so is the ProBook 5330m's keyboard.
Ports include two USB 2.0 – one for charging – plus HDMI, VGA, Ethernet, SD/MMC slot, and one combo eSATA/USB port. There's no optical drive, however, so if you need one for watching a flick while winging your way cross-country, you'll need to pop for an external unit, such as the $99 HP Mobile USB DVD/RW Drive BU516UT.
The ProBook 5330m is HP's first business-class notebook that comes with Beats Audio music-enhancement hardware, which its co-developer, Dr. Dre, understatedly claims "is about sound." As one might hope.
Moving up the food chain but down in size is the EliteBook 2560p Notebook PC, which starts at $1,099 when equipped with a 2.3GHz Core i5, 4GB of DDR3 SDRAM, and a 320GB 7200 rpm drive. At the top of the EliteBook 2560p's base configs is a $1,799 unit with a 2.6GHz i5, 4GB of DDR3 SDRAM, a 160GB SSD, and a DVD+/-RW optical drive. A Core i7 is available as a build-to-order option, and max RAM for all models is 16GB.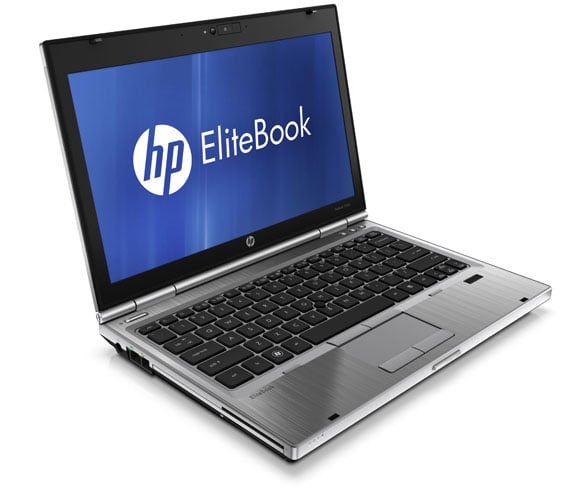 HP EliteBook 2560 Notebook PC
The EliteBook 2560p has also been given an industrial-design upgrade, and looks significantly more, well, "elite" than its predecessors. Its display is 12.5 inches, LED-backlit, and 1366-by-768 pixels, and with a three-cell battery, the unit weighs in at 3.58 lb (1.63 kg), about a half-pound less than the ProBook 5330m. Six- and nine-cell batteries are also available – each slaps into the back of the EliteBook.
Ports include those found in the ProBook 5330m, plus DisplayPort, RJ-11 (modem), and ExpressCard/34. Beats Audio isn't part of the package, but SRS Premium Sound is.
While the ProBook 5330m and EliteBook 2560p have gone to 16:9 displays, the convertible notebook/tablet mashup EliteBook 2760p Tablet PC has stuck with the 16:10 aspect ratio of its earlier incarnation – which makes perfect sense.
"If you're running a convertible tablet, you typically have custom applications, whether it's healthcare, retail, whatever," an HP spokesman told The Reg. "And our customers said, 'Look, we are not ready to port everything from 16:10 to 16:9', so we said, 'You know what? You're right'."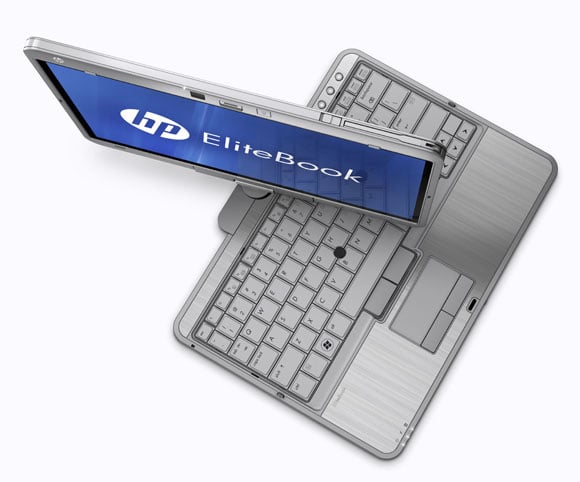 HP EliteBook 2760 Tablet PC
While the EliteBook 2760p may look identical to its predecessor, it's actually a wee bit thicker, now that it has a faster, more capacious 320GB 7200 rpm 2.5-inch drive rather than the 1.8-inch drive in the earlier version.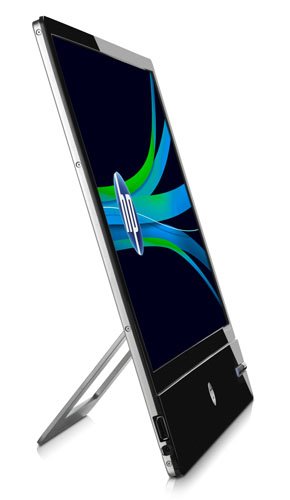 HP Elite L2201x 21.5-inch LED Backlit LCD Monitor
Other than that, little has changed for the four-pound EliteBook 2760p except for the upgrade to a 2.3GHz ($1,499) or 2.5GHz ($1,599) second-gen Core i5 processor. A 2.7GHz Core i7 is available as a BTO upgrade.
Also new to HP's business offerings is a new display with a name that most certainly did not come out of a marketing focus group: the HP Elite L2201x 21.5-inch LED Backlit LCD Monitor.
"Thin" is a bit of an understatement for this 1920-by-1080 pixel display: the display panel is 0.4 inches thick, and including its 10° to +30° adjustable stand, the total depth of the unit is a hair under five inches.
When unveiling its three new business-class notebooks, HP also announced a new US-only CDMA 3G wireless broadband service called HP DataPass, which lets you purchase chunks of wireless access time in increments of 5 hours ($5), three days ($10), two weeks ($20), or a month ($30), with no contract or activation/set-up fees.
There are data caps for each level, as well – the five-buck plan, for example, is limited to 75MB, while the three-day plan caps at 150MB, two weeks at 450MB, and one month at a gigabyte. As you approach your cap limit, you'll be prompted to upgrade, should you so choose.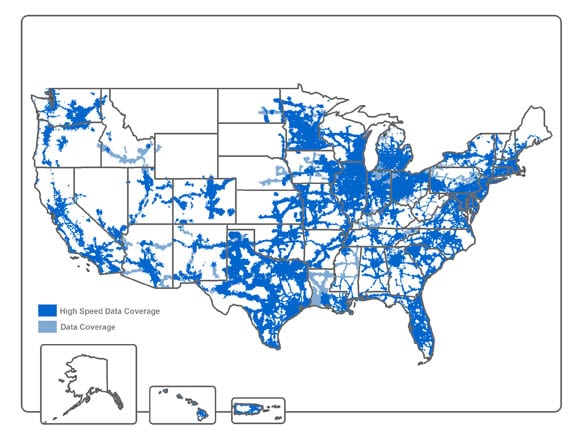 HP DataPass coverage map (click for much larger view)
DataPass is managed by HP in partnership with the Peregrine Network, using bandwidth purchased from Sprint. HP handles the billing, and the service is available to any HP notebooks equipped with an optional Qualcomm Gobi chip, which is available for each of the notebooks introduced on Monday except for the Core i3-equipped ProBook 5330m.
Older HP notebooks can also access DataPass, as long as they have the requisite Gobi chip. Due to the Gobi's multi-band capabilities, it stands to reason that DataPass will also be available from GSM carriers, once HP gets around to making those deals. ®
COMMENTS
Windows Tax?
Ever seen Apple hardware sold without an OS?
Thought not.
I deal with HP as a corporate customer and our pricing is lower than stated here given we have a Microsoft Enterprise agreement. Off the shelf versions will include Windows because thats what 95% of the customers want, and quite frankly, the other 5% can go buy Dell.
Pedantry noted (Paul 115) . .
and I stand corrected - these things can be found, they are just very well hidden. Note to self - must try harder.
Something is wrong on the internet!
Look at the link below for an example of a discount when configured with no Windows: Select FreeDOS and get a $100 discount - okay so there are some issues that this impacts such as OS Warranty etc: http://h71016.www7.hp.com/dstore/MiddleFrame.asp?page=config&ProductLineId=539&FamilyId=3377&BaseId=35568&oi=E9CED&BEID=19701&SBLID=
I can't seem to find a similar setup on the UK pages though, but usability of the website isn't what we are discussing. Sorry for the pedantic follow up, but just wanted to show that bundling isn't always forced.
It just pains me . . .
that you can't (and I mean can not) buy one without paying the tax. I got both SLED10 and XP on previous HP netbooks (both since upgraded to Ubuntu) but I would like the option of £50 (or whatever) off the price please. I have tried in the past but for only one or two machines no dealer will talk sense - as far as they are concerned I am obviously using pirate software. How else could I do it they ask?
Continuing with this forced bundling is in everyones interest except the consumer, who doesn't have a proper choice.
Windows Free
It is possible to order them with FreeDOS or SUSE Linux if preferred, they are just not listed as in the quick glance options - probably because most direct customers looking at the front page will want Win7. I guess it can appear a bit misleading but check out the specifications tab, and if you want something non standard just click on the link to start an IM conversation with a sales rep, or get them to call you.
Enterprise clients will handle things via their account teams or channel sales reps to get the custom builds they require.