IBM doubles up Storwize V7000
Cluster fluster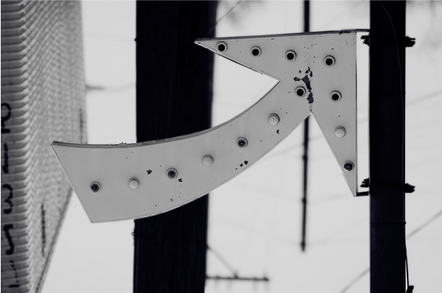 Big Blue has added 2-system clustering and 10GbitE to the Storwize V7000, meaning double the space, more scalability and faster host access.
The V7000 was introduced in October 2010 and has had one of the fastest product ramps in IBM's history with more than 1,800 systems sold to more than 1,000 worldwide customers since general availability (GA) in November 2010.
The product now supports 10GbitE in new control enclosure models, and this can increase iSCSI throughput by up to 700 per cent. A higher-performing 2.5-inch drive is available: a 146GB, 15,000rpm SAS drive, which complements the original 10,000rpm SAS drives, and provides up to 30 per cent faster throughput.
Two V7000 control enclosures can now be clustered together with v6.2 of the Storwize operation system code, doubling the capacity of a single managed Storwize system to 480TB. The software has had built-in real-time performance monitoring functionality added, and the FlashCopy function can be used with Remote Mirror volumes, adding more choices to high-availability scenarios. This is similar to the existing DS8000 capability.
VMware's vStorage API for Array Integration is now supported, meaning the array can now do storage work offloaded from the ESX server, enabling more VMs to be hosted and run.
V7000s can be upgraded from the smallest to the largest configuration without disruption. Existing V7000s can participate in clusters via a non-disruptive software upgrade to v6.2, and a cluster is managed as a single system. Once clustering is enabled, then expansion enclosures can be added to scale capacity, and/or a second control enclosure can be added to boost performance.
There is a Storwize V7000 plug-in for VMware vCenter, which also supports virtualised external disk systems. The list of supported external systems now includes EMC's VNX, HDS's VSP and HP's P9500, plus Texas Memory Systems' RamSan-620. Lastly, existing Model 112 and 124 control enclosures can be upgraded to add 10GbitE support.
IBM has not yet added compression to the V7000 and it is expected at some future date. It said in September 2010 that, within 12-18 months, we'd see the RACE integration into IBM's block storage products; we may have some time to wait.
Most of the new V7000 functionality will GA in June this year. There is no extra feature to order and no extra charge for clustering. The vCenter plug-in will be available at no charge on 30 June (for v6.1 software) and 31 July (v6.2 software). ®
Sponsored: Minds Mastering Machines - Call for papers now open