Record timing
There are two flavours of MVC: THR with an average bitrate of 34Mbps, and TSR with an average bitrate of 22Mbps. This translates to four and six hours recording respectively. Choose AVCHD 3D and opt for either TXP mode (24 Mbps for 5 hours 50 mins) or TSP (12 Mbps @ 11 hours 40 mins). There are four AVCHD 2D modes with bitrates that range from 24 Mbps to just 5 Mbps.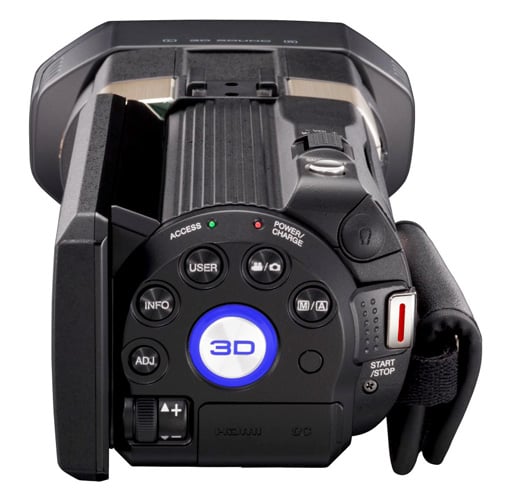 Unconventional design, but great results
Shooting digital still images in 3D is also a surprisingly satisfying pursuit. 3D stills are Full HD res in .mpo format; 2D jpegs can be shot either 16:9 (up to 2304 x 1296) or 4:3 (down to 640 x 480). Audio is courtesy of the brand's Biphonic 'surround' sound processor. I found results perfectly serviceable, and weighted sensibly to the front.
The GS-TD1 ships with Pixela Everio MediaBrowser 3D for Windows, a media management and editing package. This is fine for editing and uploading to YouTube but it's not as sophisticated, for example, as Pinnacle Studio 15 – the software I used to edit the sample footage.
Battery life is reasonable, given the drain from the twin optics and fancy touchscreen. The supplied Li-Ion battery typically managed over an hour with stop/start recording. There's a larger optional battery pack available:  the £100 BN-VF823U and JVC quotes 2hrs for 2D recording and 1hr 40 mins for 3D AVCHD.
Verdict

 Make no mistake; JVC's GS-TD1 is a highly specialised camcorder. I certainly wouldn't advocate buying it unless you have a serious interest in 3D photography. However if 3D is an area you want to be creative in, this is by far and away the best non-broadcast class model I've seen and puts in an excellent performance. ®
More Camcorder Reviews

Viewsonic
3DV5
Panasonic
HDC-SD900
Cisco
Flip Mino HD 8GB
GoPro
HD Hero
Veho
Muvi Atom

JVC Everio GS-TD1 3D camcorder
Pupose-built pro-sumer 3D camcorder.
COMMENTS
Yes
Deinterlace before any vertical resizing.
Why was it interlaced in the first place?
deinterlace
Sorry... you've done one of my pet hates: DEINTERLACE before uploading.
stu
Distance between lenses
What's the distance between the lenses? Given the overall dimensions, I'm suspecting it's rather less than that between the average adult human eyes. This will have a significant bearing on how natural the most native 3D from the unit will appear.
3D camcorder-shot video
Is generally unusable at the moment IMHO.
Only strange people would have a 3D screen TV (which are nothing but expensive, low quality novelty toys), anaglyphic video looks total crap (even on a computer screen) and is generally unwatchable on TV (ghosting), cross-eyed is fine but tiring and most people can't even learn to do it.
Generally, stills are OK for cross-eyed viewing on TV, videos - not really.
Oh, and AVCHD = abomination, no matter how many Ds.
doesn't look very 3D
On my PC it just looks like regular 2D