A handy guide to cloud service measurement
That new black magic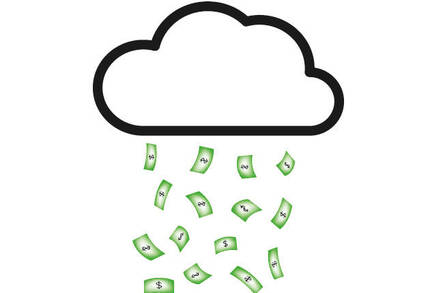 Calculating Return On Investment (ROI) for internal IT services is messy. Businesses want costs justified on a service-by-service basis. This approach has its flaws; IT service delivery is more than the sum of its parts.
Much black magic is involved in lashing various aged and often incompatible systems together. Replacing or introducing any new element of the overall structure has implications beyond the scope of that individual project.
ROI calculations must factor in power, cooling and square footage. In many organisations, these costs are abstracted away from the IT department. It is difficult to separate the delivery costs of an individual service without some element of individual metering. VMWare has a good go at it here.
Software licences are a delicate consideration. Many vendors have yet to catch up with virtualisation; the internal cloud may end up costing you more. Moving them to a hosted provider may not be cheaper either. Licence costs of hosting a service locally may be high, yet their removal from volume licensing agreements could raise the cost of applications elsewhere within the organisation.
Not as easy as ABC
On their face, hosted cloud services are the answer. Calculating ROI should be as easy as subtracting the up front cost from efficiencies gained; in truth, there are other considerations.
When a cloud service fails, you lose money. The inability to access these services removes the efficiency that IT service exists to produce. Service level agreements exist for this reason.
Maximum outage times are guaranteed. If the service should happen to be unavailable for longer, a portion of your subscription fee is returned. That refunded portion of your subscription is unlikely to cover the business costs of outages.
Inefficiencies creep in to all IT deployments over time
Integrating cloud services into local IT systems can prove challenging and unexpectedly expensive; cloud services introduce administrative overhead. Training for both staff and systems administrators needs to be considered. A review of internet connectivity, reliability and redundancy will be required.
Security and privacy issues are significant considerations. While security in the hosted cloud can be better than existing in-house security, placing customer information in the hosted cloud may incur legal considerations or adjustments to business insurance.
We need to talk
Accurately assembling the information required for comparative analysis depends heavily upon the cooperation and communication of many different individuals. IT practitioners are justifiably famous for poor communications skills. Management and accounting often lack a thorough understanding of the hidden costs of IT.
Factoring the hidden costs of IT – internal or hosted - requires more effort and consideration than simply adding up hardware costs or perusing the subscription plans of a cloud provider. The key selling point of hosted cloud services is agility; the opportunity to engage IT services without the requirement to formally manage change. This agility is a key selling feature; a "soft benefit" that complicates any attempt to calculate a comparative ROI.
Measuring the value of existing service delivery is a worthwhile exercise; inefficiencies creep in to all IT deployments over time. Once you can quantify the costs of business as usual, give various hosted services a go. What you find might well surprise you. ®
Sponsored: Minds Mastering Machines - Call for papers now open