MIRACULOUS new AIRSHIP set to fly by 2013
Helium buoyancy issue solved at last?
Where did the DARPA Walrus men go? Funnily enough ...
COSH, potentially, eliminates the compromises of the hybrid ships and delivers a true lighter-than-air hovership which can be heavier when it wants to be and so needs no water ballast when unloading, nor engine exhaust condensers, gaseous fuel etc.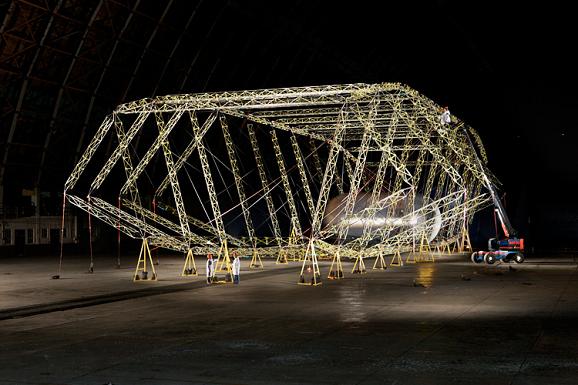 Perhaps the next-gen COSH will use a big drum-like storage tank, though?
But in fact it would seem that COSH isn't quite miraculous enough. In the case of a ship with a large payload, Pasternak admits that COSH wouldn't allow for unassisted lighter-than-air operation. In order for COSH to handle partially-fuelled unloading without ballasting (as in the Walrus troop-dropoff mission) the ship would need to have taken off in a very heavy condition to begin with.
Pasternak suggests that a vertical liftoff could still perhaps be achieved by having powerful vectored-thrust propulsion and adding still more lift by superheating the helium at takeoff, so causing it to temporarily expand and fill almost the whole envelope, furnishing extra lift. The hot gas and powerful thrusters would get the ship airborne: once the helium had cooled and the engines were throttled back to cruise power (and props rotated sideways to get the ship moving) their efforts would be replaced by dynamic lift from the hull flying along.
It's noteworthy, though, that high-powered gas turbines will be required to furnish the necessary takeoff thrust: Pasternak intends to deal with their poor fuel economy by switching to diesels in the cruise. (One might speculate that the turbines' power would also be needed to let the COSH compressors do their work in a reasonable amount of time during the unloading.)
Another sign that COSH may not be quite powerful enough for its task is that, according to AV Week, Pasternak has also done work on water-harvesting from engine exhaust in the style of the 1930s (or of some modern airship designs). Again, it seems that COSH needs every possible helping hand to let an Aeroscraft do what it says on the tin.
Even so, however, COSH is a genuinely new airship idea and it should please airship enthusiasts to hear that it will fly again soon.
And it's not just Pasternak and the Rapid Reaction Technology Office who still believe in the Aeroscraft and the "Walrus" heavy-lift mission. One notes that Aeros counts among its staff the former DARPA manager of the Walrus programme, and lists Tony Tether – head of DARPA before Walrus was axed by Congress – as an advisor. ®
Sponsored: Minds Mastering Machines - Call for papers now open