Panasonic DMP-BDT310 Blu-ray player
Image is everything?
Review When it comes to raw performance in the mainstream Blu-ray market, Panasonic is a force to be reckoned with. The brand has consistently pushed the envelope in terms of picture quality. However, during 2010 it fell behind some of its high street rivals when it came to features and functionality. It's a situation Panasonic has clearly set out to address with the DMP-BDT310, that now tops its Blu-ray player range.

Panasonic's DMP-BDT310 packs 3D playback support and conversion modes
The DMP-BDT310 is remarkably thin and shallow. It stands a mere 35mm tall and only reaches back 185mm. Outputs comprise phono AV, optical digital audio and two HDMIs. The latter are significant as they allow the BDT310 to deliver high-res audio even if your AV amplifier does not support 3D via HDMI 1.4. You simply route the prime HDMI output to your 3D TV and connect the AV Out Sub terminal to your legacy AV receiver, allowing it to decode a feed of the lossless soundtrack.
New this season is a fresh user interface. A razor sharp compass-like navigation system has been drafted in to help you get around. Another welcome refinement is the ability to customise the player's home screen with your own JPEG image. I'm sure Panasonic expects most users to load up a picture of their family – but I went straight for a poster of Thor to add a cinematic touch. Alas, only one image at a time can be retained in the player's memory.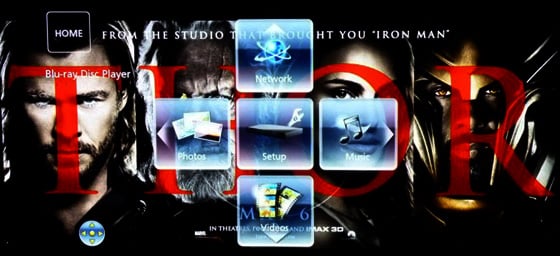 The navigation background can be customised with your current favourite wallpaper
The unit is DLNA compliant, but media streaming proves ineffectual. Across my test network, the deck was unable to play AVI, MOV and MKV content stored on a NAS. The only success I met was with AVCHD. Things improve if you access files from a USB flash drive or disc. MKVs work and AVIs play back with subtitles.

Media playback from the USB interface proved far more reliable than the Ethernet streaming option
This second generation 3D player has several tricks not seen on previous Panasonic decks. The Touch-Free sensor, which opens and closes the disc loading tray with a wave of the hand, is a fun if elaborate fix to Panasonic's longstanding propensity for putting the Tray Open button on the wrong side of the player. I did keep setting it off accidentally, but you can turn it off in the menu if it begins to annoy.
COMMENTS
Multi-region support
Multi-region support again lacking, so again NFI.
Also, does anyone else feel like we are back in the 80s with load times measured in minutes? I remember waiting 7 minutes for a game to load on my Commodore Vic-20, but seriously, a minute to load a dodgy graphic from an optical disk. What planet were the format designers on?
My thoughts exactly
Hacked AppleTV with XBMC on it. Boots in about a minute. After that, if I want a movie it starts in moments whether it's a DVD or a BluRay rip. All my discs are in the attic as well, keeping them away from little-people fingers. I don't understand why people are forced to wait so long on a bloody movie starting. It's like going back to the days of getting a video tape from the rental place and realising the previous lazy sod hadn't rewound it.
Except, with the VHS/Betamax you could at least wind past the crap at the start...
@Vladimir Plouzhnikov
So ... you have already gotten over it.
It it won't change
I won't buy it.
I spend reasonable amount of money on audio and video stuff but not a single penny on BD. And I am not worrying about it at all - let the shareholders worry.
Re: re: wind, when the crowd says bo-selecta.
"Why should I?"
Because there is very little chance that it will change and worrying about it isn't good for your blood pressure or general happiness.