Google Shopping hits Oz, still in beta (surprise)
Fetid Froogle lurches into the sunlight, again
Police with water cannons had to be deployed in Sydney yesterday to quell the celebrations, as hundreds of thousands of retailers held a wild street party to celebrate the launch of Google Shopping in Australia* (warning: don't follow the link if you have a low tolerance of folksy, patronising, "say I wanted to buy a camera" prose).
This offspring-of-Froogle is yet-another price-list and product-rating aggregator. These have already infested Google's results so badly that many searches are as useful as a wrong number.
Still, the Chocolate Factory has tagged it the next gateway to repatriate Australian dollars to Ireland Singapore. Retailers can now submit their catalogues to Google's Merchant Centre to be listed on Google Shopping.
So what have we lucky Australians got?
A "Shopping" tab to get product results related to your original search. These can be filtered and sorted by price, filtered by category or retailer, and …
That's about it, really. It's just a shopping aggregator, and a no-frills one at that. Many or most of the results in Google Shopping are scooped from other price aggregators in a kind of recursive gravity well.
In a dumb quirk of design, price sorting overrides categorization.
If I'm searching for a chainsaw – which, as it happens, I am at the moment – I can filter the results by category (I want "chainsaw" rather than "DVD"), but if I then try to sort only the chainsaw products by price, Google Shopping reverts to "everything with the word chainsaw in the title" and shows me CDs, DVDs and t-shirts.
And in my second test, I ended up with the top-ranked result offering a completely unrelated product.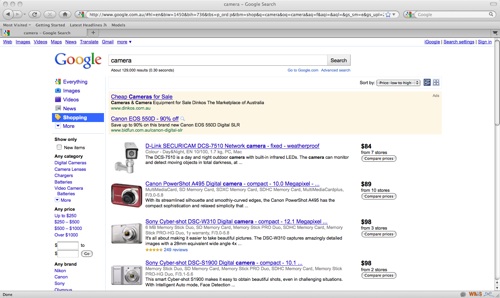 Starting my shopping search on "cameras", the first result offered is the D-Link Securicam DCS-7510, available from seven stores and with a starting price of A$84.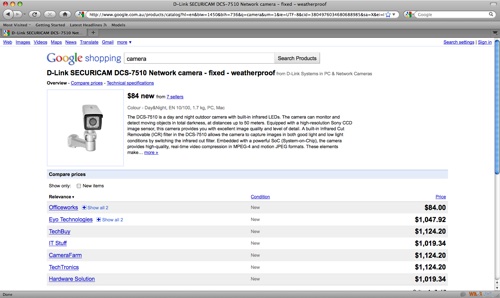 Following the link, I found a startling price range: A$84 from Office-Works, more than A$1,000 everywhere else.
This is because the OfficeWorks product, when I followed the link, was actually a D-Link broadband router that had nothing to do with cameras.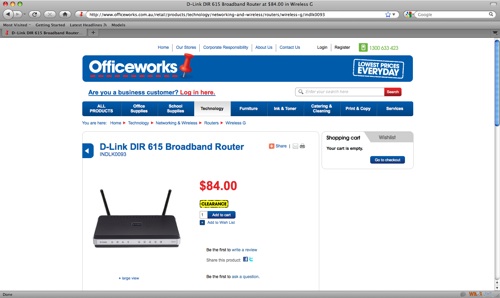 A similar flop occurs on one of the categories suggested on Google Shopping's home page - "Coats". Following this link, I was surprised to see dstore.com listed as a retailer in the category. While it describes itself as a "department store", dstore doesn't have a clothing category.
It just happens to have a book with "coats" in the title. It's listed either to pump out the category listing, or because Google's search algorithm, after the nine years of Froogle's life, still aren't good at distinguishing products with similar names.
Google is quite keen - perhaps desperate - for Australian retailers to get on board. Some categories currently have only two stores represented, which is hardly the performance that wins bonuses for the sales team. Lingerie has managed Zodee and Trixan Body. Manchester manages a limping five stores. A few categories manage a halfway decent showing of the usual suspects - but buyers won't find anything on Google Shopping that isn't already elsewhere on the Web.
Yet another shopping aggregator? Just what the world needs. ®
*Actually, none of that first par actually happened. I merely wanted to add some verisimilitude to an otherwise bald and unconvincing narrative, as Poo-Bah put it.
Sponsored: Minds Mastering Machines - Call for papers now open