Archos 32 Android media player
Pint-sized PMP with potential
Flash? Aha!
As is always the case with Archos Android devices there are no Google apps and no access to the Android Market, either, but you can fix both by sauntering over to Archos Fans and downloading the Froyo Market and Google apps installer. You can use Amazon's new app store when Amazon's decides to let those of us not living in US to download from it.
Once you have installed the Market and snagged Adobe's Flash Player 10.02 you can watch Flash video in the web browser - not a bad trick for a mid-price PMP.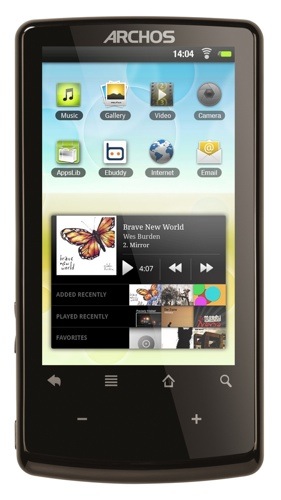 Android Market can be added, but not officially
Skype worked perfectly though you'll need to have your headphones to hand to make a call: while the 32 has a mic and 0.3Mp camera it doesn't have a speaker. The 32 also lacks anything in the way of storage expansion.
Both MSC and MTP media transfer is supported but as always with Android devices playlists can't be synchronised directly from MTP media players. There's no DRM support either, so you are stuffed when it comes to watching BBC iPlayer downloads. On a more positive note, albums ripped for gapless playback using LAME play as they should, without gaps.
Archos reckons that with a full charge the 32 will play music for 24 hours or present video for six, neither of which are claims I'd take issue with. I got six hours ten minutes out of it while looping a standard def H.264 video.
Verdict
The 8GB 32 can easily be found for just under £100 which makes it significantly cheaper than Apple's £130 iPod Nano or Samsung's £150 Galaxy Player 50. If you can live without DRM support and storage expansion then the 32 has a lot going for it: codec support is broad, audio and video quality good, battery life strong and the Android UI is a pleasure to use despite the resistive panel. ®
More PMP Reviews

Apple iPod
Nano 6G
Archos 43
Samsung Galaxy
Player 50
Apple iPod
Touch 4G
Ten...
sub-£150
PMPs

Archos 32 Android media player
An impressive little Android media player with a surprisingly powerful CPU.