OCZ joins PCIe flash fray
Compression boosts I/O numbers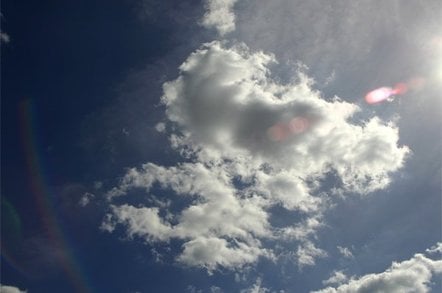 OCZ has joined in the PCIe flash market, the one led by Fusion-io, with card controllers that compress data and boost I/O to 1GB/sec speeds.
The VeloDrive PCI-Express SSD uses 2-bit MLC flash with four Sandforce SF-1565 controllers, has four channels, comes in half-height or full-height form, and has on-board hardware RAID or selectable software RAID in which the host CPU carries out the RAID calculations. It is available in 300GB (384GB raw), 600GB (768GB raw), and 1.2TB (1.536TB raw) configurations.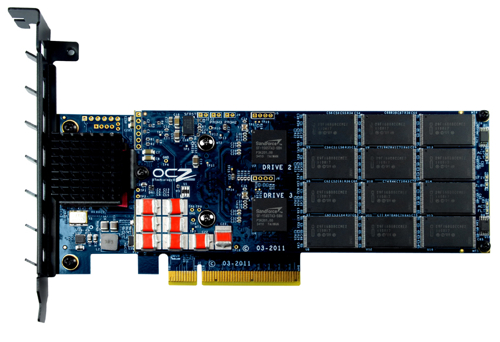 OCZ's PCI-Express VeloDrive SSD
The performance numbers take a great deal of inspection and show up some real oddities, for example the 1.2TB card is slower than the others, a reversal of normal flash practice. Let's look at the best numbers first: compressible data and software RAID. Pay attention: the 300GB card achieves 60,000 random read IOPS with 4KB blocks, 130,000 random write IOPS – yes, 130,000 of the beggars – 1.05GB/sec doing sequential reads, and 1GB/sec on random writes.
Now let's turn to the 1.2TB card and the same measures: 75,000 random read IOPS, whereas the 600GB card does 80,000. That's odd. The larger card can run at 55,000 random write IOPS, a lot less than the 300GB card's 130,000. Is this some curious artefact of the controllers and the software RAID product chosen? It can run at 950GB/sec doing sequential reads, while the 300 and 600GB cards do 1.05GB/sec: what the heck is going on here? All three cards have the same sequential write speed of 1GB/sec.
Coupling software RAID with incompressible data reveals some even sillier numbers. The random write numbers are presented in MB/sec terms and not IOPS, which is the standard measure for virtually every other supplier and OCZ's previous SSDs. That makes you suspicious, and then the numbers themselves are seriously weird: 64MB/sec for the 300GB card, 65MB/sec for the 600GB card and a near-derisory 19MB/sec for the 1.2TB card.
All these numbers are available on an OCZ spec sheet (two-page PDF/627KB). OCZ says the product has configuration flexibility, which it does but these performance characteristics make it hard to compare it to Fusion-io's ioDrive Duo MLC Card. Fusion-io kindly (not) presents its random performance numbers for 512B blocks instead of 4KB ones, and specifies 64KB Blocks for its sequential reads and writes. The 1.28TB ioDrive does 1.5GB/sec when sequential reading and 1.1GB/sec when sequential writing, it being faster than OCZ's card.
Virident's TachION uses single level cell flash and is also faster than OCZ's product.
The oddly skewed OCZ numbers suggest a version one product, something that could have been rushed out, perhaps to end discussions of the silly short selling Copperfield Research report.
Daryl Lang, OCZ's product management veep, sings the product's flexibility praises: "The ability to run the VeloDrive in multiple modes provides clients with the freedom to use the RAID stack of their choice. This maximises performance and creates faster, more seamless deployments with RAID stacks that may already have been qualified for their unique usage model."
OCZ says the card is intended for small- to medium-sized businesses (SMBs), enterprise clients and system integrators, and gives no details on availability or pricing. Stifel Nicolaus analyst Aaron Rakes writes: "We expect pricing to range from ~$4.00-$5.50/GB, or ranging from approximately $1,600 (300GB) to $4,900 (1.2TB) – price points that appear to be significantly lower than Fusion-io."
Rakers thinks that OCZ's VeloDrive is already shipping to OEMs. He also foresees Thunderbolt-using Indilinx controllers coming to OCZ's products. ®
Sponsored: Minds Mastering Machines - Call for papers now open