Apple refreshes iMac with Thunderbolt, Sandy Bridge
AMD GPUs too
Apple has indeed taken the wraps off updated iMacs, as anticipated by rumour and a temporary Apple Store closure this morning.
The new models - two 21.5in machines and a pair of 27-inchers - sport Intel Sandy Bridge chippery: 2.5, 2.7, 2.7 and 3.1GHz quad-core Core i5s, respectively. Build-to-order buyers can elect to have 2.8GHz or 3.4GHz Core i7s installed instead.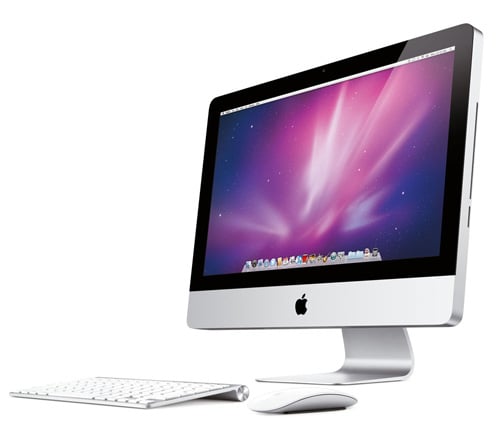 As per the latest MacBook Pro notebooks, the new iMacs incorporate Intel-developed Thunderbolt ports: one on the smaller models, two on the larger ones.
Some 12 times faster than Firewire 800, 20 times faster than USB 2.0 and four times faster than USB 3.0 this new interconnect may well be, but that doesn't disguise the fact that there's almost nothing to plug into the ports yet, unless you count monitors - Thunderbolt is essentially DisplayPort, after all.
Apple also claimed the new models deliver 3x faster graphics than their predecessors thanks to a range of discrete AMD Radeon GPUs: 6750M, 6770M and 6970M, depending on which model you select.
All the iMacs come with 4GB of 1333MHz DDR 3 memory, and 500GB or 1TB of 7200rpm hard drive storage. You can fit a second HDD - or SSD - too. Wi-Fi is included: 2.4/5GHz 802.11n.
Prices kick off at £999. ®
COMMENTS
Takes all the fun out of peripherals...
...I really miss my SCSI chain
Thunderbolt > Displayport
Thunderbolt isn't essentailly just Displayport. What Thunderbolt has is a backward compatibility mode where chips will drop back to Displayport mode if the only thing they see is a display. What Thunderbolt is, is encapsulated PCIe. In a sentence, you take all the good ideas from Firewire: hot plug, dynamic reconfiguration, peer to peer communication, isocronous transport, and use it to wrap around a PCIe lane or two as payload. Pretty much exactly the best of all worlds.
This means some pretty interesting things can happen. One of the neat tricks is that Thunderbolt is not difficult to port a peripheral to. A PCIe lane pops out at each end, and all the work done on previous device drivers should be trivially ported. Amongst other things it neatly subsumes the role that Express slot had. But better.
Don't forget
It's also full-duplex, whereas serial connections (like SATA and USB) are still half-duplex. Apple did a great thing and starting stuffing this chippery on their boards. Intel did a FAIL thing and didn't include this tech into their CPU/chipset in lieu of USB3, and instead decided to just shun USB3, leaving out LightSpeed(Thunderbolt) for now, instead. I would have loved to have a LightSpeed-capable external raid box (think NAS).
Even better were the days before Keyed Cables
Ah yes, a SCSI cable plugged in upside down. The smell of burnt plastic and ash floating down through the air. Who needs this new fangled technology crap! Bring back the fry em hard days!
SCSI, not so scuzzy at all
SCSI was great, all the good computers came with it as standard, so that's Macs and Amigas.
The PC world had to endure bi-directional parallel ports for many things or fit a SCSI card and spend a lot more on hardware.
The first CD writers for IDE were notoriously shite.