Welcome your robot overlairds, robots
Nine years of silicon servitude in Scotland
And now for something less frightending...
These days Mowbot is a bit battered, his off button has stopped working and a touch of senility makes him mow the lawn to his own schedule rather than the one programmed into him. That worries us slightly, but, unlike the Daleks, Mowbot is unlikely to gain the ability to magically climb stairs, so not really scary just yet.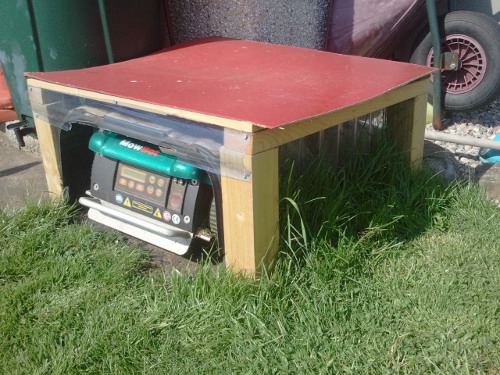 The supplied hutch was swept away in the wind, Oz style, but without taking the robot on a magical journey to find the Wizard.
Even less frightening is Scooba, a more-recent addition to our domestic stable. We had him imported from America in 2007, though you can buy one in the UK these days. Made by iRobot, like Roomba, Scooba mops floors rather than vacuuming them. He works very well on laminated (sealed) floors, and lino, and slightly less well on tiles, but whatever the surface he needs the room cleared and empty before he starts.
Scooba gets filled with (ideally warm) water and some special cleaning fluid (which is neither expensive nor quickly consumed). He does a quick brush round (though if the floor needs it then Roomba is better skilled for the preparatory work) and then spreads water over the floor. That completed he drops a squeegee blade and wipes the water up again, hopefully taking most of the mess with it.
Scooba works well, at least as well as a manual mop, though probably not as well as a manual mop applied with vigour and enthusiasm. The water that comes out of him is certainly suitably muddy, so dirt is being lifted and the floor feels cleaner afterwards.
He's also getting a little long in the tooth, and had to have a new battery this year (at £60 – no cheapo Maplin alternative for Scooba), but his performance is undiminished and the floors remain clean.
One robot not pictured, or so far mentioned, is our robotic cat flap. That's mainly because the only thing it can do is unlock on the approach of the appropriate cat(s), but it is noteworthy as a reminder to keep one's cats upgraded with the latest cyberware.
An interloper was stealing food from the kitchen and generally scaring our cowardly cats into half the house, so we bought a flap (£60) keyed to their implanted identity chips. But when we tried to configure the flap we were alarmed to discover that the implanted chips, with their 12-digit ID code, had been supplanted by a new version with 16 digits. As a result both cats had to be upgraded (£25 per cat), though thankfully removal of the original chip wasn't required.
Now the battery-powered flap only unlocks when our cats approach, allowing them to traipse in with muddy paws, birds, mice and the occasional rabbit, which (once the corpse has been removed) can then all be cleaned up by the star of the show – Roomba.
He's our third Roomba, the original model having died after a year, and the second lasting four more years. This one is 100 per cent replaceable - he comes apart like a kit and every part can be ordered online so (in theory) he should last forever. So far he's had one new battery, a new front sensor and brush set, but despite that he's a marvellous thing.
We don't let him come out on a timer, that option exists but our house isn't tidy enough to make it practical. One needs to tidy a room first (or frighten the children into doing so by reminding them what happened to the paddling pool) but then he can be let loose and will vacuum happily (under the watchful eye of the aforementioned cats) until he decides the job is complete or his battery runs low. When that happens he plays a happy tune and shuts down, unless he can see his charging base nearby.
This new Roomba has more suction and better brushes, but most importantly the filter is hinged so it can be emptied with two hands, rather than requiring three as with previous models. Sadly he also sits slightly higher on the carpet, making the carefully-selected sofas just too low for him to slide under as intended, though he still tries and sometimes plays his sad tune when unable to extract himself.
iRobot developed the first Roomba to raise money and credibility so it could get into the far-more-lucrative military robot business, but what makes Roomba, Scooba and Mowbot useful is not how clever they are but how much they achieve with such limited intelligence.
While Dyson repeatedly demonstrates prototypes that scan the room with sonar, and Electrolux charges a thousand pounds for their Trilobite bristling with sensors, iRobot's Roomba bounces off walls at random while Mowbot repeatedly cuts the same grass and calls it "mulching" to avoid having to pick up the bits. None of our robots is efficient, a human could do the job in half the time – but speaking as that human I'm glad I don't have to. ®
Sponsored: Minds Mastering Machines - Call for papers now open