Arcam FMJ BDP100 Blu-ray Disc player
Very metal
Review If you're an Arcam aficionado, there must have been times when you thought the arrival of a Blu-ray Disc player would never come. The brand's original strategy, to support both HD DVD and BD with a universal player, was shunted off the road when the HD format war came to an abrupt end.
A second, BD-only project met a similar fate when Arcam's chosen chip supplier proved unable to deliver.

Years in the making: Arcam's FMJ BDP100 Blu-ray player is here at last
Third time lucky then? It seems so. The wait is finally over with the arrival of the FMJ - Arcam says "Faithful Musical Joy"; I say "Full Metal Jacket" - BDP100.
Unlike the majority of mass-market BD players, the BDP100 is painstakingly built. It's heavy -6.2kg, no less - and has an extremely rigid chassis. Back panel outputs comprise HDMI; component- and composite-video; stereo analogue audio; and optical and coaxial digital audio.
There's also an Ethernet port and a single USB connector. The absence of a multi-channel analogue audio output may surprise some.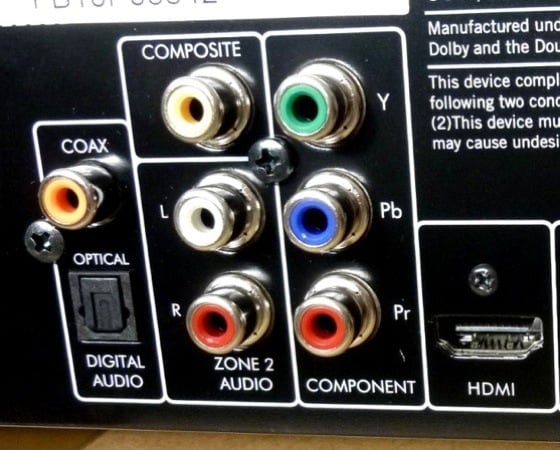 Plenty of ports - but no analogue beyond stereo
With an eye on the burgeoning custom install market, Arcam has also included a 12V trigger, remote IR sensor input, RS232 port for system control devices, and a second zone phono stereo output.
COMMENTS
Damn titles
You're pretty much right - as pointless as a "high-end" HDMI cable.. But they will argue that their components are high quality, so less interference, and they will probably say they have better picture processing (which some people may argue is as bad as an EQ equalizer on old stereos)
At the end of the day, this will use the same components as players costing a fraction of this price. The only reason people will pay £1k for this, is that they want a box that matches their other over priced boxes.
So inside...
.which £150 OEM BD player board/transport is installed?
I mean we are paying just for the fancy case here arent we? Thats usual with these sorts of players.
Arcam etc. cant afford to make their own gear anymore. Very few of them can.
Some never did.
Dear YoYO, would you like to buy some efficacious medicinal compound?
It costs £89 a bottle and it has been tapped against a high end (luxury?) bench. As you are clearly a connoisseur of such high end aqueous solutions, your decision making process will not be to simply compare the crude chemical composition with that of ordinary water. I'm sure lots of "those" people would be wondering why you'd pay a premium for what you could simply pour out of a tap. That represents true intelligence.
Sent from my Acme hover boots.
"this scribbler knows nothing about Greek, and not enough about English"
Strictly the translation of 'hoi polloi' from Greek is 'the majority'.
But as an adopted loanword 'hoi polloi' does not have a translation, as it IS an English word, it is NOT two English words. Its meaning is 'the people' as rabble also means 'the people'. Hence if you are to use the rabble, you should also use the hoi polloi.
see also Alcohol, a loanword from the Arabic 'al-kuhl' where 'al' translates directly as 'the'.
Slow loading...
"The remastered Goldfinger Blu-ray from Fox Home Entertainment took a lengthy one minute 14 seconds to bring up the 007 logo" - then I saw the 'Java powered' logo on the rear panel.
All became clear.