Fujifilm Finepix X100 APS-C camera
Old school values revisited
Compact case
RAW mode, predictably, is even worse. The speed doesn't drop, but the buffer does, from 10 shots to eight, while the processing time jumps to around 20 seconds. These would be reasonably good figures for a mid-range compact, not a £1,000 camera.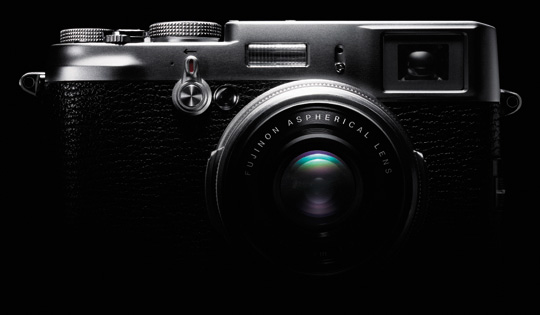 The retro layout will no doubt appeal to old school photographers unwilling to change their habits
Battery performance is more impressive though. Fuji claims 300 shots per charge, which was roughly borne out during testing. Expect battery life to go up if you rely on the optical viewfinder rather than either the EVF or monitor on the back.
The question is: who is the X100 for? Consumers will baulk at spending a grand on a camera; particularly when the likes of the Sony NEX-3 produces images which are almost as good for nearly £700, albeit at the cost of looks, build-quality and accessible manual modes. High-end users and professionals, however, will look for far better RAW performance and interchangeable lenses.
Fuji calls the X100 "the professional's choice", but with a lens catalogue numbering precisely zero it's hard to see which category of professional the company might be talking about. Even professionals looking for a backup camera are more likely to spend a thousand pounds on something in the class of the Canon EOS 7D. Just about the only thing the X100 has going for it at this price is its size and weight: it's about half as heavy as a semi-professional DSLR.
Verdict
The X100 is a great camera to use – fun, involving, and capable of very good images in all sorts of light. It's well-constructed, and although the retro design won't be to everyone's taste, I love it. Finding a compact that forces you to engage with manual photography is a novelty that doesn't wear off, and the result is a camera that's intensely satisfying to use. But at a thousand pounds it's next to impossible to recommend. ®
More Camera Reviews…

Olympus
PEN E-PL2
Panasonic
Lumix DMC-G2
Samsung
EX1
Leica
M9
Sony
NEX-5
Sponsored: Minds Mastering Machines - Call for papers now open

Fujifilm Finepix X100 APS-C camera
Fixed-lens retro-styled camera for enthusiasts and purists.