Fujifilm Finepix X100 APS-C camera
Old school values revisited
Prime mover
Indeed, there's no meaningful distinction between ISO 100 and ISO 1600 when looking at the full image. Even zoomed in, a tiny amount of speckling is all you get. Push things further – and shoot with the X100's topmost, expanded ISO setting of 12,800 – noise was tightly controlled, although the final image was relatively soft.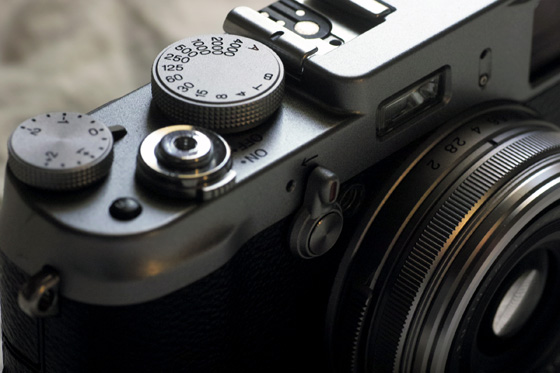 Threaded shutter release button allows cable accessories of old to be used.
It has to be said that it is disappointing that the lens can't be changed. On a camera this expensive, the ability to use a reasonable telephoto or wide-angle lens would be appreciated. Still, if you're going to be stuck with a single optic, it may as well be one as good as the 23mm, f/2 prime lens on the front of the X100.
There's no barrel distortion to speak of, and it's impressively sharp, even wide-open. The only trouble is the technical difficulty of getting sharp frames from such a huge aperture. The lack of zoom or interchangeability could even be seen as a good thing – the only way to change the composition of your shots is to move your feet, making the X100 perhaps the only camera on the market that forces photographers into good habits.
Performance, unfortunately, is very mixed. In normal use, shooting JPEGs, the X100 is handy. It starts in just over two seconds, and recovery time between shots is under a second, even in RAW mode. But, while the X100 claims a maximum continuous shooting speed of 5fps, and actually delivered slightly faster (5.6fps) against a stopwatch, this was followed by a digestion period of a little over ten seconds – not much good if things are unfolding in front of you.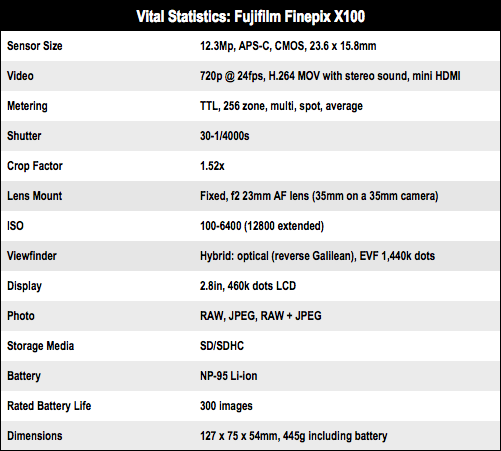 Sponsored: Minds Mastering Machines - Call for papers now open