Mortal Kombat
Goremongers
The special one
The spectacle is handled well, even encouraging players to use characters they might otherwise shy away from. It offers a real challenge too, with the likes of Goro and Kintaro doubling-up against your solitary competitor. All that's missing is a branching storyline, as it would have increased replayability immensely if fighters were selected at the player's behest. That said this is still the genre's finest attempt at telling a meaningful narrative.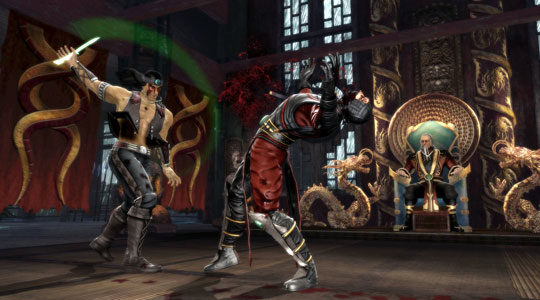 Take a swipe
The fluidity of the fighting, both from an animation and feel standpoint is far superior to previous entries too. Combos for example are now much more fluid, with a flurry of punches quickly turned into a special, followed by an uppercut and perhaps, with sufficient skill, a juggle. Yes, it's still far short of a Super Street Fighter IV's nuance, but MK has never tried to fill the shoes of Capcom's fighter, content to be its own master, a quality which remains true here.
Take the special bar, which charges when either dishing out pain or, more readily, when on the receiving end. Not a new addition to the fighting scene by any means, but it brings system a fair share of nuance. Fill it by a third and you'll be able to use a special version of a standard move, the next third offers the chance to break any combo – obvious tactical options there then – while fill it all the way to unleash the aforementioned 'X-ray' attack.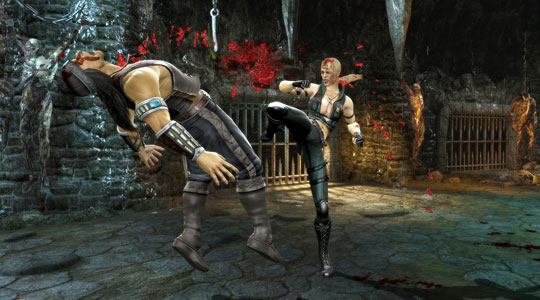 Fancy a quick knees up?
Kabal, for example, will rush into his opponent, thus dizzying them, before skidding into their shins, so breaking them, and finally embedding his hookswords into his opponents shoulder blades, fracturing both – all shown in zoomed-in X-ray vision, just in case watching the mayhem from afar just didn't do it for you in the gratuitous violence stakes.
Sponsored: Minds Mastering Machines - Call for papers now open