Mortal Kombat
Goremongers
Review Like Frankenstein's Monster, Mortal Kombat has ever been the lumbering chimera, an amalgamation of individual parts thrown together, somehow brought to life much to the despondency of nature's will.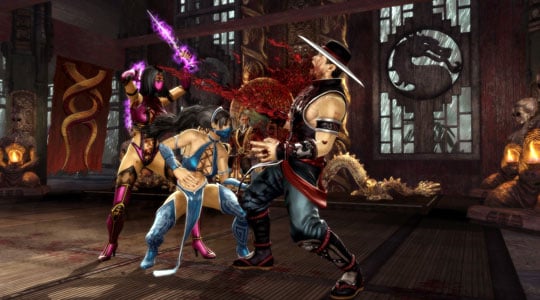 Two girls, one mug
Take the series' visuals, for example: ever shifting from one trend to another, as the graphical trend of the time was embraced. Whether these were early forays into motion captured fighters, or later ventures into 3D, it would take a brave gamer to claim these experiments were ever totally successful.
Then there was the blood, torrents of the red stuff gushing from the assembled fighters as uppercuts, elbows, spears, fans, hats and more sliced flesh from bones – and that's before we get to the infamous fatalities which saw heads and hearts ripped from bodies with joyous abandon. If ever a game prompted parents to take a second look at what their kids were playing then this was it.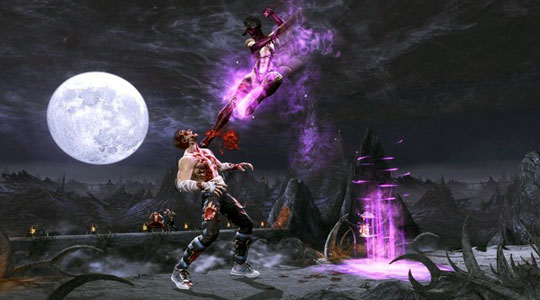 Purple pain
Eighteen years and nine games later, here steps in Mortal Kombat, a remake of the first three games in the franchise and which finally steps up the visuals, animation, controls and even storyline, to create a more fully formed experience whose glitches are genuinely included on purpose – the way fighters crumple to the ground for example, being a nod to those original games.
COMMENTS
"Someone just watched the royal wedding coverage"
This gem posted only on page 4!
Someone just watched the royal wedding coverage
That was priceless.
sidestepping
I'm sure you were (are?) able to do this in Tekken.
Havnt played it in a few years, so i may be mistaken. One of the things that annoyed me was that the game could descend into a circling match.
Strafing?
Actually, they've tried it several times.
Mortal Kombat 3 was the first attempt, along with I believe the early Soul Edge games.
It didn't end well.
Unfortunately what makes for more realism in terms of combat makes for pretty crap gameplay.
Half the delight is watching someone unleash the 500 hit Mega Combo of Doom!, but if the opponent can simply sidestep and watch it explode past them, then kick them in the back, well.
Also, it tends to be really hard to do two player 3D properly. For single player, you can put the camera behind the player, so you plan attacks over the shoulder and can line things up right. For two players on one screen though, the camera has to be purely side on to keep things even, and that makes judging depth really hard, especially for joe average.
@JDX
Yeah, that gets me too. When I was doing karate, I started with shotokan. But my last instructor (before I quit due to lack of free time) changed from pure shotokan to a goju-influenced version (called seijenkai, from a top bloke called Harry Cook) which very much focussed on getting off the line. So you don't go backwards and block, you get the hell out of the way and strike.
For fighting games where many characters' special moves involve a straightforward charge, the ability to sidestep would be a major innovation in the genre. I'm amazed that no-one has added this yet, considering it's been in FPSes for at least 15 years. ISTR Descent was the first game to add this, before iD added it to the original Doom engine for Heretic/Hexen.