Acer Iconia Tab W500
Function-before-form fondleslab
Better slate than never
How well you think Windows 7 works as a touchscreen UI is a matter of opinion. Personally, I got along just fine after I'd populated the taskbar with my favourite apps so they could be launched with a single tap. The virtual keyboard is rather good too.
Acer has added it's own Windows overlay. It's not only visually impressive but suffers from none of the glacial lag that so ruined the Dell Stages experience on the Dell Inspiron Duo I looked at recently.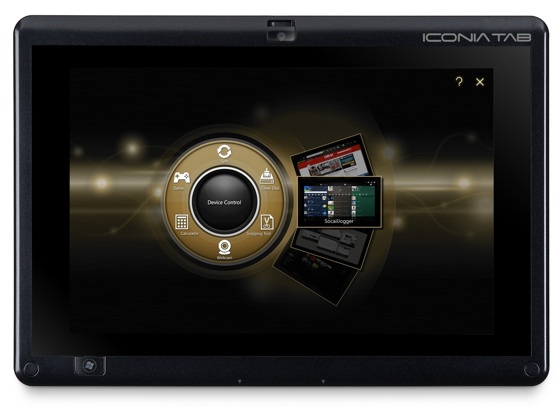 The Acer Ring UI keeps Windows out of the way
Called Acer Ring, it keeps Windows 7 at arm's length if all you want to do is watch a video, listen to a tune, browse the web or keep up with your social networks. The media player interface called Clear-fi - it's DLNA under the bonnet - is particularly well judged.
The W500's keyboard dock holds the tablet firmly in-situ with two steel lugs. The screen angle can't be adjusted, but I'd say Acer has got it about right. When not in use, the dock clips to the tablet to protect the screen - a simple but effective piece of design.
Powering all this is a built-in three-cell, 3260mAh battery that Acer reckons is good for six hours of internet browsing or fours hours of HD video playback. I found those numbers to be about right and managed over five hours of full-screen standard def H.264 video.
Verdict
There's nothing exactly revolutionary about the W500, but it does more than your average Windows netboook and can do it in tablet form. Sure it's a little on the chunky side and Windows 7 isn't as finger friendly as iOS or Android, but with the dock or without it's still a proper computer rather than a steroid-injected smartphone with ideas above its station. ®
Thanks to LaptopsDirect.co.uk for the review machine loan
More Tablet Reviews

Apple
iPad 2
Dell
Inspiron
Duo
Dixons
Advent
Vega
Creative
Ziio
Archos
101
Sponsored: Fast data protection ROI?

Acer Iconia Tab W500
10in media tablet running Windows 7 Home Premium
Price:
£448. With Dock: £520 RRP