Acer Iconia Tab W500
Function-before-form fondleslab
Functional rather than flash
Storage comes in the form of a 32GB SSD and though some may argue for a higher capacity HDD I'd rather take the hit on space in return for speed, improved power consumption and not having to worry so much about dropping it.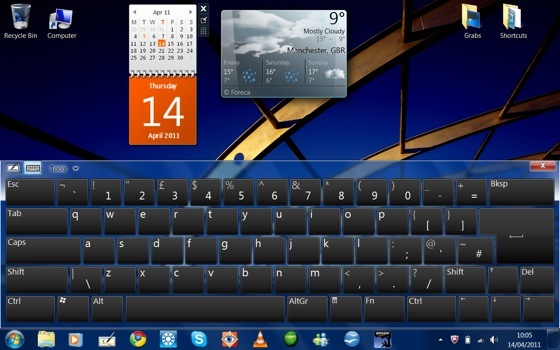 Windows 7's touch UI is no iOS, but it's useable
Of course, that's a nominal 32GB. After system requirements all you actually get is 16GB so it's just as well there is a fully enclosed SD card expansion slot int which you can leave a card permanently.
Powering the show is a 1GHz AMD C-50 dual-core processor and integrated Radeon HD6250 graphics that takes a chunk out of the tablet's 2GB of DDR 3 memory. This is a combination that makes for a reasonably satisfying user experience with everything trotting along at a decent pace and feeling much the same as a twin-core Intel Atom netbook running Windows 7 Starter. Both 1080p H.264 video and 720p YouTube streams run sweet as a nut in full screen.
PCMarkVantage

Longer bars are better
3DMark06

Longer bars are better
PCMarkVantage Battery Life (Minutes)

Longer bars are better