What's up, dock?
The keyboard dock adds another two USB ports, but uses one to connect to the tablet and blocks the other so there is no net gain. It also has a 10/100Mb/s Ethernet jack. Wireless connectivity is taken care of by 2.4GHz 802.11n Wi-Fi, Bluetooth 3.0 and an optional 3G modem.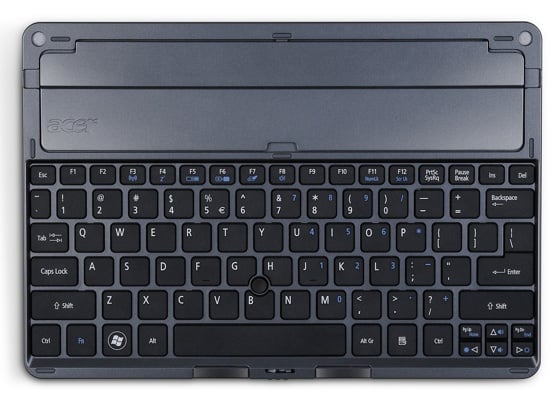 Good keys to type on if you don't fancy the virtual keyboard
The calculator-style keys are nicely spaced and pleasant to type on. There's no trackpad, just a ThinkPad-style navigation nub set in the middle of the keyboard and two narrow click-pads set into the front edge. It's a combination I was more than happy with, but if you're not, remember that you still have those USB ports to connect a mouse or trackball to.
The W500's display is a glass-covered 10.1in, 1280 x 800 LED-backlit LCD capacitive touchscreen, and rather good it is too. Colours are nicely saturated, viewing angles robust and it's bright enough to make for easy viewing in direct sunlight. But with no oleophobic coating, fingerprints are clear to see.
Thanks to some trick Dolby virtual surround sound processing and a pair of decent speakers, audio is powerful, warm, resonant and very spacious. On this front, the W500 leaves the iPad 2, Motorola Xoom and the majority of netbooks for dead.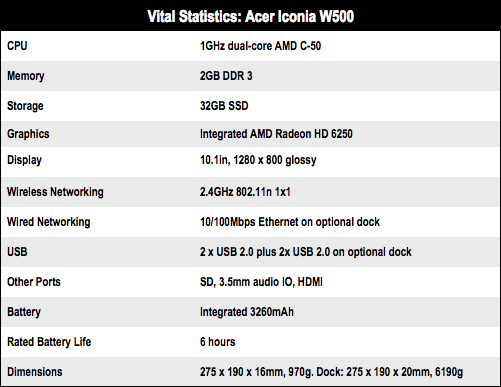 COMMENTS
I like it!
That's more my idea of a portable machine - one that can actually DO stuff rather than just show stuff.
Now for the predictable cry....get Linux on it!
@ArmanX
I see the Intel marketing brainwashed you. The speed doesn't matter a jot, it's how much the processor does per clock cycle. You cannot compare an Arm, Atom, I5 etc etc purely on clock speed.
http://davefaq.com/Opinions/CPU_Performance.html
But...
But the tablet is a new format and was invented by Apple last year, all those cool people with tablets would have got one beforehand if they'd been available.
Ahem...
I seem to recall Ubuntu was working on one...
...but it seems to be abandoned. I'll bet much of their research went into Ubuntu Netbook, though. There are a few other interfaces as well. I can't vouch for any of them, though.
FAIL
After 7-8 years of Windows Tablet fail, they launch this. How original.
What is it with these manufacturer lemmings? Or did they listen to the people who want the full OS on a tablet - who have no intention of buying one anyway?