Acer Iconia Tab W500
Function-before-form fondleslab
Review Aimed squarely at those of us who simply don't see the point of Android or iOS, Acer's Iconia Tab W500 is a Windows 7 Home Premium slate complete with decent graphics, a handy detachable keyboard, a sizeable chunk of storage and a realistic, if not cheap, price tag of £520.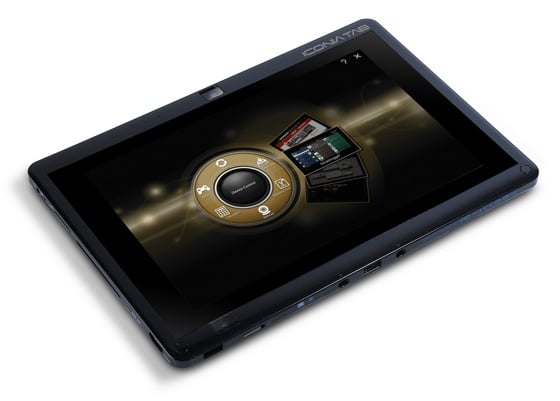 Acer's Iconia W500: use it as a tablet...
Aesthetically, the W500 is a rather amorphous lump though the slightly sparkly screen surround is a nice visual touch. There's no question marks over the built quality, though: it's as solid as a rock, and the W500's rounded corners and edges make it comfortable to hold.
The W500 doesn't have a hugely larger footprint than the iPad 2, but it is nearly twice as thick as the Apple and rather more heavy too. Carry the keyboard dock with you in addition to the tablet, you'll be tucking kit totalling 1.5kg under your arm.
Of course, the iPad 2 is the Kate Moss of the tablet world - the W500 compares more favourably with Motorola's 730g Xoom. Acer also claws back some portability points by virtue of the tiny power adaptor.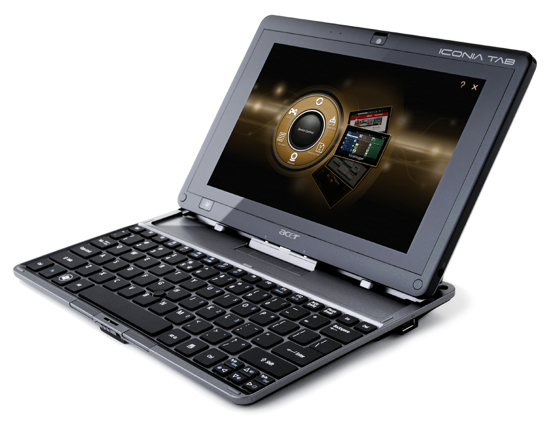 ...or as a notebook, with the optional clip-on keyboard
The W500's girth is not without its benefits: the edges house two USB ports, a volume rocker, a 3.5mm audio jack and an HDMI jack. Personally, I'd be hesitant about buying a tablet of any sort without that as the minimum number of ports. The W500 has both front- and rear-facing 1.3Mp webcams.
COMMENTS
I like it!
That's more my idea of a portable machine - one that can actually DO stuff rather than just show stuff.
Now for the predictable cry....get Linux on it!
@ArmanX
I see the Intel marketing brainwashed you. The speed doesn't matter a jot, it's how much the processor does per clock cycle. You cannot compare an Arm, Atom, I5 etc etc purely on clock speed.
http://davefaq.com/Opinions/CPU_Performance.html
But...
But the tablet is a new format and was invented by Apple last year, all those cool people with tablets would have got one beforehand if they'd been available.
Ahem...
I seem to recall Ubuntu was working on one...
...but it seems to be abandoned. I'll bet much of their research went into Ubuntu Netbook, though. There are a few other interfaces as well. I can't vouch for any of them, though.
FAIL
After 7-8 years of Windows Tablet fail, they launch this. How original.
What is it with these manufacturer lemmings? Or did they listen to the people who want the full OS on a tablet - who have no intention of buying one anyway?