Smartfish Whirl Laser Mouse
Rocking rodent
Strain relief
Some computer users seem immune from the pains of repetitive strain injury, while others are permanently crippled. Personally, I sustain my career with a selection of keyboards and pointing devices used in rotation whenever they become too uncomfortable – always hoping my hands will last until the computers to learn how to listen properly. So I was particularly interested in trying the Smartfish and am pleased to report it genuinely works in reducing the pain of repetitive use, even if it's less than perfect the first time you get to grips with it.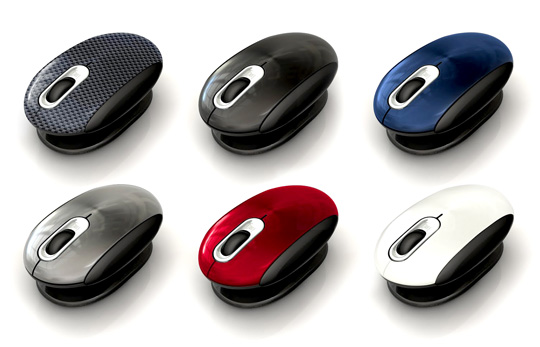 The Mini version comes in several flavours
Comparing it to Microsoft IntelliMouse (Explorer II) the Whirl is slightly lighter (135g compared to the IntelliMouse's 147g), but appears roughly the same size. Unfortunately that appearance is deceptive because while the IntelliMouse slopes down towards one's desk, the Whirl drops suddenly off with an overhang that leaves the last two fingers of one's hand with nowhere to go. Balancing a whole hand on the mouse requires one to curve the thumb into a curtsy position under the index finger, which is far from ergonomic.
But once one gets used to the overhang then the mouse is quite comfortable despite the glossy plastic surface. The Whirl lacks the additional buttons to which one has become used over the last few years - sporting only two in addition to the scroll wheel in the centre - and those two buttons feel a little cheap, as does the entire mouse.
Verdict
What Smartfish seems to have created is a £15 mouse, mounted on top of a £25 pivot, and I can't help thinking that for a few quid more having a better mouse would have been worthwhile. But after a few hours of intensive use, coughing up the extra for that pivot starts to pay off. The mouse is definitely more comfortable to use and thus enables longer gaming sessions greater productivity from ageing limbs. If you've mucked about with alternative pointers in the past, then the Whirl is certainly worth a try. If not, then perhaps you should consider it before you have to. ®
More Peripherals Reviews…

Swiftpoint
Futuremouse
Steelseries
World of Warcraft
peripherals
Razer
StarCraft II
peripherals
Ten Essential…
Gaming
Mice
Ten Essential…
Netbook
Accessories

Smartfish Whirl Laser Mouse
Twist and turn ergonomic enhancement to the conventional mouse.