Google Docs app lands on Android
Offline access not included
Google has released a new Google Docs application for its Android mobile operating system, hoping to facilitate both the editing and sharing of documents via its online word processing service.
Now available from the Android Market, the app lets you search for and open files stored across your Google account, and it offers built-in tools for sharing files with others users.
You can also upload files stored on your phone, and you can add widgets to your phone's home screen that handle common tasks. One widget, for instance, lets you upload a photo to Google Docs. Another lets you instantly create a new document.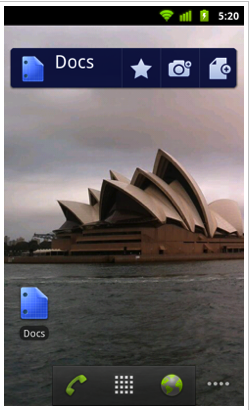 Google Docs for Android widgets
Using Google's optical character recognition (OCR) technology, the app also lets you convert images of documents to editable text. At least in theory. "OCR does a pretty good job capturing unformatted text in English but won't recognize handwriting or some fonts," the company says.
The app is available only in English, and it runs on Android 2.1 phones and later. You can't edit documents unless you have a live internet connection, as we confirmed with a brief test of the app. This is also the case with the full desktop version of Google Docs and other Google Apps, but the company is working to provide offline access via HTML5. ®
Sponsored: Are DLP and DTP still an issue?