Iomega Home Media Network Cloud Edition 1TB drive
Made for sharing
Clouded vision
I was more taken with the ability to specify shared folders on the drive to fulfil functions such as uploading photos to Flickr or FaceBook, or videos to YouTube. If you have a digital camera which supports the PTC protocol, you can connect it directly to the Nas box and copy images from it.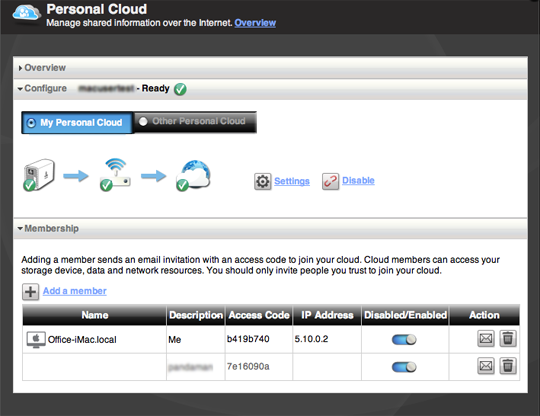 Share configuration
It's the ability to share files across the Internet that makes this drive stand out, however. The Personal Cloud feature allows you to share files with others using Iomega's Storage Manager software. Once you've set this up, anyone you provide with a username and password can install the software on their Mac or PC and access the shared files and folders you allow them to.
If a colleague can't, or doesn't want to, instal Storage Manager, they can access the Cloud Edition using a web browser. You'll need to enable UPnP on your router to get these features to work, but the Iomega software should take it from there. I say 'should' because it didn't work on my router.
Thankfully, the user manual has the precise settings needed to open the appropriate port on a router, and with these entered manually, I was up and running.
The final cloud feature allows you to back-up data from the Nas drive to a Mozy or Amazon S3 storage account. For all the nifty features, however, I was most impressed by the Cloud Edition's configuration and set-up interface.