2011 Ford Focus
Hi-tech hatchback
Style counsel
My overall opinion of these driver aids is more mixed. Yes, they all work and only stick their oar in when they need to, but I can't overcome the fear that excessive dependence on technology is removing the responsibility for driving safely from the driver to a black box under the bonnet.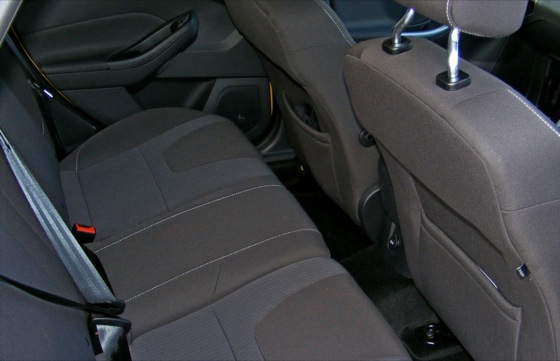 It's a bit tight in the back...
Before I leave the driver aids, I should also mention that the camera housing is big and I was always conscious that there was something taking up a lot of windscreen real estate. Maybe owners will get use to it, but even after I week I still found my eye drawn to it.
Inside the cabin, technology is a little less obvious because Ford's all singing, all dancing voice-activated Sync communication system doesn't arrive in the Focus until early 2012. Even without that, you still get built-in Bluetooth phone control, and USB/3.5mm audio connections and an adapter cable to control your iPod from the steering wheel through the LCD screen mounted in the centre console.
Gadgetry aside, the Focus' cabin is a pleasant place to spend time. You sit low in very comfortable and supportive seats surrounded by high quality materials. There's a large drivers footrest too, vital in any three-pedal foot well.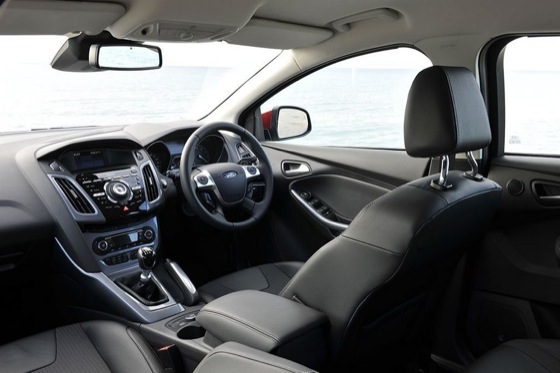 ...but up front it's a pleasant place to be
My only criticism is the over-styled hand brake which has an unnecessarily long action and sticks up out of the centre console like the top of a Bronze Age hand axe.
Sponsored: Minds Mastering Machines - Call for papers now open