Five amazing computers for under £100
Old-school gizmo gladhandling to cure the bank holiday bores
Psion 3MX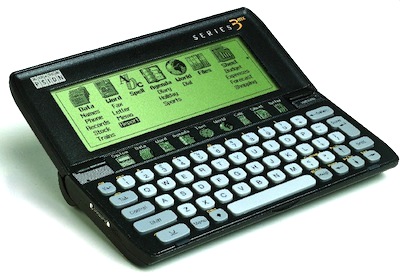 We know that technology improves labour productivity. It does so by removing the need for drudge work, reducing labour costs and releasing labour for higher value uses. It's generally why we get richer.
But for some aspects, this is not such a simple story. In terms of personal productivity, technology does not advance in a linear fashion. The graph looks much more like a succession of wrinkles, eddies and great backward leaps. Nothing illustrates this like the history of the electronic personal organiser.
The last Psion PDA was already a bit tired, and in need of refreshment, when it rolled out of the factories in 2000, 11 years ago. That never came: Psion notoriously scrapped the new product range that was due in the summer of 2001, and attempts by the company to re-enter the market since then all came to naught.
So there is no shortage of Psions on eBay, including two much more advanced and modern models (the 5MX and Revo), readily available within our price threshold. So why choose this one, which is 16-bit, and has a design ancestry going back to the 1980s?
Well, we're looking for something unique for our money, and the Series 3 line remains the most successful attempt to put a personal organiser into silicon. It's a fully programmable computer, of course, but it is the built-in Agenda application and the keyboard that make it stand apart from anything else on the market. And it was the machine's combination of the two, the hardware and the software, that gave it a unique malleability and flexibility. This was never surpassed, not even by Psion.
Of course the Agenda in the 32-bit Psion machines that superseded the Series 3 range could boast some clever features of its own, given the hardware constraints: such as incorporating sketches, and Word documents, in a Calendar entry. And since then we're used to cloud syncing across multiple machines, universal data formats… but we're no more organised.
In many respects the software has gone backwards, become simpler and less sophisticated, and many of us would be simply more organised if we still had something with the capabilities and software richness of a Series 3. The reason this is so good is that Psion didn't see itself as competing with rival computer companies, but rather as trying to make people part with their Filofaxes. They were competing with paper, so the software had to have some of the richness of paper, too.
The S3's Agenda application had plenty of functionality: dedicated Anniversary views were one of the six default views, and the Agenda app could hold up to 99 To-Do lists, with four visible at any one time.
As an example of its flexibility, each To-Do list could have its own independent settings for sort criteria and appearance. Lists could show up at specific points in the Day View. You could fine-tune where they appeared (at which point in the Day View, for example); there were shortcuts for everything; and flipping between views was considered so important to the user that the view-switcher had its own keyboard shortcut, the diamond key.
The end result is something that rapidly becomes as personal as any Filofax, and is streets ahead of anything on the market today… except, perhaps, for a Filofax.
The Psion owner will also have something nobody else has: a pocketable QWERTY organiser. For quick notes, it knocks any laptop or touch-screen devices into a cocked hat.
Surprisingly, the Series 3MX still talks nicely to modern PCs. PsiWin (you need version 2) plays nicely with Windows 7, and even Outlook sync with the Series 3 is possible: hunt around and you will find an app called Psi-Sync.
The Series 3MX I've chosen here was the last crank of the handle – with software that really appeared in 1989 for a range of subnotebooks, but which was tweaked for the first Series 3 in 1991. The industrial design, great for its time, reflects that early '90s feel. But again, this design was considered more personal and pocketable than the squarish, more modern design of the Series 5 that succeeded it. The screen is surprisingly Kindle-like, and with care the AA batteries really do last a month. No wonder Steve Jobs was a fan.
Released: 1998
Why you should get one: the Diary, stupid
Forget about: email, photos etc.
Expect to pay: £60-£75 on eBay.
Next: Apple's finest hour?
Sponsored: Minds Mastering Machines - Call for papers now open