Five amazing computers for under £100
Old-school gizmo gladhandling to cure the bank holiday bores
IBM ThinkPad X40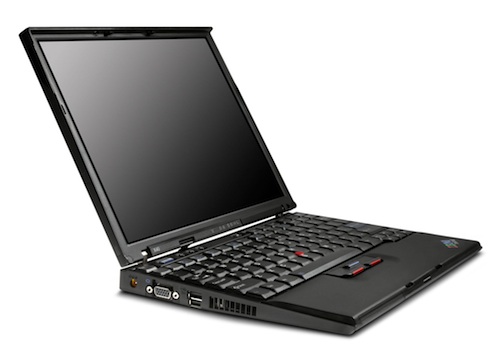 ThinkPad X40
If you admit you work "with computers", in whatever capacity, you'll find that you are unpaid technical support to a cast of thousands. You'll also find that you're tapped by friends-of-friends (or even complete strangers) down the pub for buying recommendations.
For years I found this quite straightforward. If you want a general purpose laptop and can afford it, for example if you've come into a small inheritance, or work in the "sustainability" sector, then get a Mac. They are very nice. If you can't afford it, get a Thinkpad. Computers are just a means to an end, anyway, I would advise.
Mind you, for a good while normal advice was suspended. The reliability of Apple's consumer laptops fell from the built-like-Volvos quality of the 1980s/1990s and became truly shocking. El Reg's San Francisco operation (of two) returned its three iBooks about eight times for repair, and I suspended making any kind of recommendation at all. Yet despite a change of owner, ThinkPads continue to get the nod, although the competition has much to offer: Dell and Samsung even employ designers nowadays – a startling development.
The ThinkPad's durability and after-market support are decisive here: it's made of high quality materials and if something goes wrong, you'll be able to find someone to fix it, with the part available on eBay. And if you're inclined, you can do it yourself: Lenovo is the only manufacturer to continue to supply hardware maintenance manuals allowing the end user to do a full tear-down.
ThinkPads had a clutch of other attractive features. They were uncompromisingly matte: matte exteriors, matte and displays, and until recently, refused to include a Windows key on their keyboards – leaving more room for the metakeys that matter.
To this day, there's no fancy I/O. The latest and greatest X-series features a VGA output because (cue Yorkshire accent), "if God intended man to display things on a great big HD telly, he'd have give us HDMI ports". ThinkPads are for real men's work. Or at least for a real middle manager's work: for displaying PowerPoints on a projector. Stuff your notebook that's an all-purpose versatile home media centre and breaks after six weeks.
Finding a ThinkPad for under £100 is a challenge, though, one really best avoided altogether by springing an extra 20 quid. (See below for details). Given the price constraint, the best for under £100 is the X40, a model that's now almost completely forgotten.
The T40 appeared in early summer 2004, and (some, but not all) featured the second-generation Pentium M Centrino chip, Dothan. It belonged to the UltraPortable lineage, in which IBM took great pride.
From the outset IBM had always made small notebooks very well, knowing people paid handsomely for the privilege. They weren't cheap, and the "sub notebook" design had barely changed since the (560) eight years earlier, only getting slightly thinner each time. Along the way it was rebranded the "X series" and had a tough act to follow: it superseded the very successful X31.
The X40 was the red-headed stepchild of the family. The X31 was (and still is) a great success, and so was the X60, a couple of years later. Corporate buyers like predictability when they're ordering laptops by the ton, and the X40 didn't offer too much over the tried-and-trusted X31. I guess it just missed out on the corporate buying cycle. You can, however, pick up an X40 for two figures on eBay.
You'll put up with the reliably gloomy screen, parallel (rather than serial) ATA, and you may well be lumbered (take time to check this) with a b-class 802.11 card inside. However with 2GB of memory and Aero turned off, it can run Windows 7 very well indeed. And you can spend three times as much for a new netbook that's slower and with 28 per cent fewer pixels.
Sadly the matte era is over. Lenovo doesn't seem to think the X-series branding is worth it anymore, and it has quietly removed it in favour of glossy finishes and odd sub-brands. If you spring for an extra 20 quid, there are plenty of second-hand X60 models around, which is probably the better bet given their serial ATA, faster memory and (most likely) dual-core CPU.
Released: 2004
Why you should get one: the best bargain PC notebook under £100
Forget about: Translucent GUI eye-candy. But why do you need it anyway?
Expect to pay: under £100 on eBay
Next: the only handheld still worth buying
Sponsored: Minds Mastering Machines - Call for papers now open