Five amazing computers for under £100
Old-school gizmo gladhandling to cure the bank holiday bores
Apple PowerBook G3 (Pismo)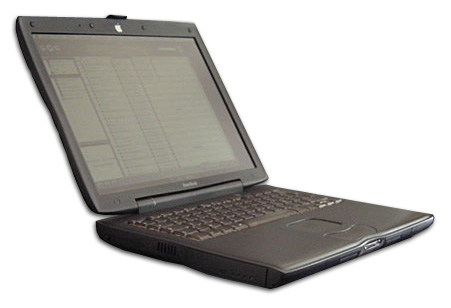 Apple PowerBook G3 (aka "Pismo")
This Apple laptop has inspired a ferociously loyal following for a decade, and is often called the best laptop the company ever made. It's the one design that pre-dated the return of Jobs, and professional PowerBooks were the last part of the four product "quadrant" he got round to updating, giving it the modern industrial design touch.
This is not mere sentimentality for a bygone Apple. There are practical reasons the 'Pismo' PowerBook attracted such a following – and why it remains a bargain today, provided you know the limitations.
One is the design, which proved much comfortable than any Apple laptop that followed. Curves have been out for a decade. The Pismo looked like, and felt like, a well-loved leather-bound reference book. That alone wouldn't have kept the market in Pismo parts alive, though.
This was the last modular notebook Apple produced, and perhaps the most expandable of all. Swapping out the standard hard drive and the memory is trivially simple. Upgrading the CPU – and several upgrades were produced for these models – requires only a bit more care. But the dual expansion bays were the key.
Much like IBM's UltraBay design, a huge variety of expansion options were produced for these bays: slot-loading Superdrives, HD adapters, faster FireWire cards and USB 2.0 drives, and even a Blu-Ray drive. Upgrading required lifting a latch and swapping in a new bay. But the option that endures is the range of high performance batteries produced for the machine, since the Pismo bays can host two long-life batteries.
Can you imagine an Apple laptop of today returning 14 hours run time? Even with the much improved battery technology a decade later, Apple only touts "up to seven hours". Admittedly, this adds a little to the weight: it tips the scales at 6lbs in its default configuration, so it comes at a cost.
In terms of software, the Pismo runs Mac OS X up to 10.4 Tiger. Tiger runs adequately, and 10.3 Panther very well indeed. If you don't need the internet – and for real productivity it is great to have a machine that doesn't – it boots into Mac OS 9, which is even more frugal with power.
Where it shows its age is with a 1024x768 screen (the same as the ThinkPad I've chosen here), which suddenly makes it look dated. The screen has aged so well, but many have a pinkish or yellowish hue now. Mac OS X generally got faster as it went along, up to 10.5, but the graphics demands of a modern OS (and these can't be turned off) really do put some strain on an 8MB graphics card.
I'd recommend it as an "offline" machine that can boot into a modern OS when you need to. A Pismo can be picked up for under £100 on eBay – around £80 if you're prepared to bargain-hunt – although two long-life batteries will of course be extra. With a genuine Apple capable of 14 hours, there might be a time where a Pismo could save the day.
Expect to pay: £90
Released: October 2000
Why you should get one: Distraction-free writing in comfort.
Forget about: the web, mostly. You'll be happier for it.
Conclusions
I had expected to find lots of vintage gear in this. But Amigas and Archimedes, to name two, command a collector's premium that puts them well outside the price threshold we set. Some gems, like the ThinkPad X60, and Psion's original netBook™, still command over a ton on eBay.
What about ancient enterprise kit, then? The strongest contender given the price we'd set was a Sun UltraSPARC – there are plenty of these about – with a very capable 4GB of RAM. But it was diskless, and adding the SCSI disks would send us over the threshold. Alas, there's no S/390 for £100.
Still, there's plenty to be getting on with. To the Shed, dear readers. ®
Sponsored: Minds Mastering Machines - Call for papers now open