5
Chinese mapping hotline stays cold
Not a single call to snitch on shifty mappers
China's new hotline for reporting of dodgy cartographers has remained silent, with not a single call since being switched on last week.
New licence requirements came into effect at the end of March, making the provision of online maps illegal and even the gathering of cartographic information subject to fines and confiscation of equipment. But despite that the hotline hasn't been called once, according to the China Daily.
Not that mapping isn't popular in China; the explosion in road building across the country makes Chinese drivers even more reliant on satellite navigation than the rest of us. But the Chinese government remains concerned about the security of national maps in foreign hands.
The same criticisms were levelled at our own Ordinance Survey, particularly as the first maps in the series were prepared to ensure adequate defence against a possible French invasion. Eventually cross-channel triangulations provided useful information to both sides.
In reporting the story the China Daily makes much of Britain's insistence that militarily-sensitive parts of the UK are blurred out from Google Street View, though that's hardly comparable to demanding everyone gets a licence before providing a street map of the country.
China's largest search engine, Baidu, has a novel solution to the privacy issues of Street View - it provides detailed maps of cities rendered SIM City style allowing visual navigation without upsetting the most paranoid of citizens: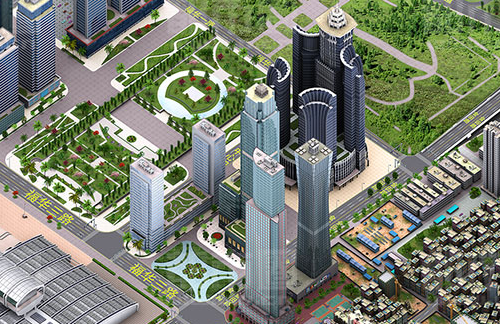 Not all Chinese cities are yet rendered this way, but many are
China Daily reports that 105 local and foreign companies have so far been awarded mapping licences, with another 100 applications being processed. Google is apparently not among that number, though the search giant hasn't yet confirmed to us that China is one part of the world it's not interested in mapping. ®
Sponsored: Are DLP and DTP still an issue?