Dell waves its Boomi at large back-ends
Madam, I'm AtomSphere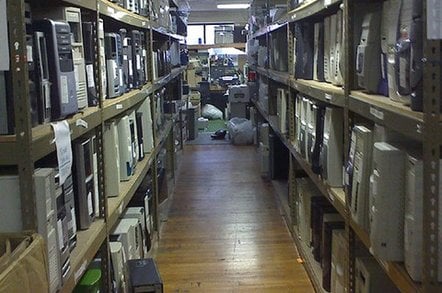 Boomi – the Pennsylvania-based startup acquired by Dell last year – has released a new version of its flagship AtomSphere service, a so-called "integration cloud" that lets businesses connect various back-end applications running in their own data centers as well as those in the proverbial data-center heavens.
Available starting Tuesday, AtomSphere Spring 11 offers several new tools designed to improve back-end life for mid- to large-sized businesses, Boomi CTO and co-founder Rick Nucci tells The Register. These include tools for connecting to existing middleware platforms, speeding the transfer of data between earthbound applications and sky-high services, and plugging into third-party management and monitoring tools.
The service also suits small businesses. But the big boys get the love this time around.
AtomSphere is designed to integrate a wide range of business-software applications, from CRM software to HR platforms to finance applications. These might be applications running in your own data center, or they might be services running across the interwebs, such as Salesforce.com. "Our cloud service allows you to connect any combination of cloud or on-premise apps, and the connections are to enable a business process of some sort," Nucci told us recently.
"So, if you got a lead that originates in a marketing-automation application, the data can move into CRM system, and when the deal is closed, we can move the information into a finance system, and it might go from there into a support system to manage relationships with customers.
"You may be running two applications or dozens. But Boomi sits in between these apps and orchestrates the movement of all that data as it happens."
The service includes pre-built "connectors" for plugging into popular applications and services – including everything from Salesforce.com to PeopleSoft to Oracle E-Business Suite – but there's also an SDK for building your own connectors to other applications. AtomSphere can operates as a pure internet service, but the company also offers a runtime engine known as the Boomi Atom that can be installed in your own data center to improve data-transfer times.
Separately, the new Spring 11 version seeks to boost transfer times by working to move only data that has changed rather than entire data-set behemoths. According to Boomi, this is an automated process that requires no additional coding.
The new version also includes a Java message-service connector that plugs into entrenched middleware solutions such as MQ Series, Progress Software, TIBCO, and webMethods. And there's an additional API – available as a SOAP and a REST interface – that lets third-party management and monitoring tools access the service.
AtomSphere now handles terabyte-sized files, and hundreds of gigabytes of files can be juggled by each Atom runtime engine. Both AtomSphere and the Atom runtime have been updated with the latest tools. Existing customers should have access beginning Tuesday. ®
Sponsored: Minds Mastering Machines - Call for papers now open