White iPhone 4 spotted, 'shipped to Apple stores'
Fanbois eye smooth creamy flesh
Apple's ever-elusive white iPhone 4 has been spotted in the wild.
Separately, Apple Insider reports that the elusive Caucasian iPhone has already been shipped to Apple retail stores in the US.
According to source sharing snaps with BRG, née Boy Genius Report, this is a white iPhone: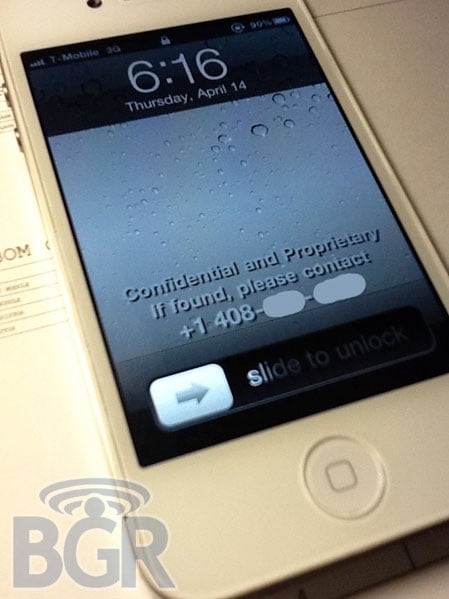 We thank BGR tipster "Will" for his snaps, but he might want to bone up on photographic white balance
As BGR points out, the device has a model designation of N94 – the GSM version sold by AT&T in the US is N90, and Verizon's CDMA model is N92. The website also notes that the device in question appears to be an internal Apple prototype, seeing as how it was equipped with both an Apple employee directory and an Apple test app, Radar.
The oracle is silent as to whether the purported prototype white iPhone 4 was found in a Redwood City watering hole, as was the famous Gizmodophone.
No one knows, of course, whether the BGR phone is a) actually real, b) merely a prototype and not an indicator that a T-Mobilized phone is anywhere near release, or c) a shell hiding the innards of a test-level iPhone 5.
We would offer the opinion, however, that since AT&T's proposed borging of T-Mobile most certainly won't be completed in the next week or so (insert, "Well, duh!" here), that the first white iPhones won't be from T-Mobile. After all, Apple's long-awaited über-Caucasian handset is widely expected to be released by the end of this month.
The release of the white iPhone – although not yet announced by Apple – appears imminent. Apple hinted in December and marketing chief Phil Shiller tweeted in March that whitey would appear "this spring." Those sentiments were followed by a Bloomberg report that the phone would be out by the end of this month, a Reuters report that the phone was "in production," and one analyst saying that his Asian sources had told him that it would ship to shops this month.
And now Apple Insider says that phones has begun to show up in stores, citing anonymous sources. The site says that the phone is expected to launch on both Verizon's and AT&T's network, and will be available "within the next week". Previously, the site reported that in the UK, Vodafone indicated it was stocking the white iPhone as well.
The white iPhone 4 has been a long time coming. The choice of a black or white iPhone was first available with the launch of the 3G model. The iPhone 3GS also offered that option.
When the iPhone 4 was announced in June of last year, Apple said it would be available in a color-free case, as well – but it didn't happen. Apple quickly said that the white model would be delayed until "the second half of July," admitting that it had "proven more challenging to manufacture than expected."
Then, in the second half of July, Apple issued a press release knocking at date back to "later this year" – last year, that is – reiterating its excuse: "White models of Apple's new iPhone 4 have continued to be more challenging to manufacture than we originally expected."
Now we're treated to snaps of the evasive device, but running on a GSM service with which Apple has no announced relationship – although that's certain to change if AT&T's acquisition of T-Mobile is approved.
Today is Monday, April 25. Counting today – it's still early here in San Francisco's Vulture Annex – Apple has six more days to release the white iPhone 4 by the end of the month, or 27 days until Schiller's stated "this spring" deadline.
A white iPhone available in the next week or four would be no big news. A white iPhone available on T-Mobile before the AT&T aquisition is approved and completed would be bigger news.
The possibility that BGR's tipster-snapped handset is actually an iPhone 5 disguised in an iPhone 4 case ... well, that would be the biggest news of all. ®
COMMENTS
Oh. My. God.
An established consumer gadget released in a DIFFERENT COLOUR????
(OK, I know that neither white nor black are actually colours, but you know what I mean.)
Why is this not front page news on every reputable media outlet on the planet?
To keep that white exterior its whitest...
Nine out of ten dentists recommend Crest with Brightening Fluoride formula. Oh and don't forget to floss in-between icons every day.
I hear the iPhone also comes in yellow!
But first you have to drop the while one in an urinal.
It is incredible...
...how a company that makes only ONE common popular phone can make many news agencies and people around the world go ape-shit about a 2nd soon-to-be-released promised colour of the same common popular phone.
POWER!!
(Cheap advertisement)
Every model the same story
Rumours about a white iPhone being made, rumours about a white iPhone being shipped, rumours about a white iPhone being found, rumour about Cam2A throwing computer out of window whilst screaming "It's only the bloody case colour".
Too many news sites have been reporting this, and not only for the iPhone 4. It has been the same for the past two versions if I'm not very much mistaken.