That's the frequency, Kenneth
Compo answers, and some form of explanation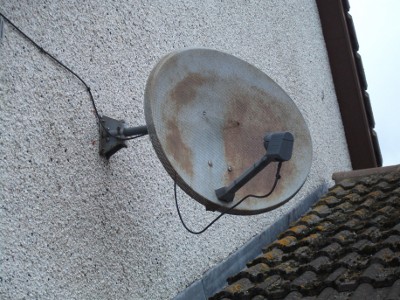 This one is a battered and bothered Sky dish, which only works when whacked with a stick. This particular one is rarely used, but should we suddenly decide Murdoch isn't rich enough then the option is there.
But despite being one of the most popular uses of wireless in the UK, and easily recognised hardware, not a lot of people managed to get the frequency right. Satellite television is way up at 12GHz, which is why it is so important to have line of sight to the bird, and have the dish pointed in exactly the right direction – otherwise it will only work when whacked with a stick.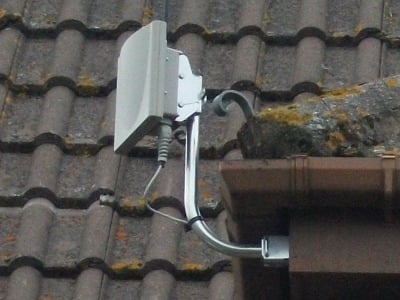 This is the only bit of kit in the competition which requires the user to have a licence, though it could easily be switched from the light-licensed 5.8GHz band into an unlicensed frequency.
It is a microwave relay, pictured here attempting (unsuccessfully) to connect to Clare's house 5km away. The trials and tribulations of getting that relay mounted higher up are recorded elsewhere, and the box has now been replaced with a mesh antenna for faster access, but it's still a useful bit of kit.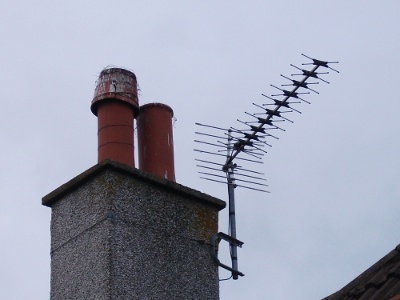 Almost everyone recognised the traditional TV antenna, for picking up analogue (and now freeview) transmitted between 600 and 800MHz.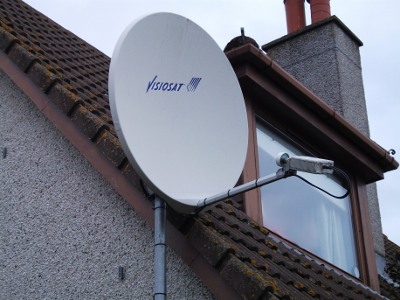 The vast majority of you also realised this 1.2m dish wasn't going to be used for watching TV but was a satellite broadband connection, for use with the Avanti's satellite service. That puts it at 14GHz.
To be fair 22GHz wasn't a bad guess, though 1THz was very wide of the mark.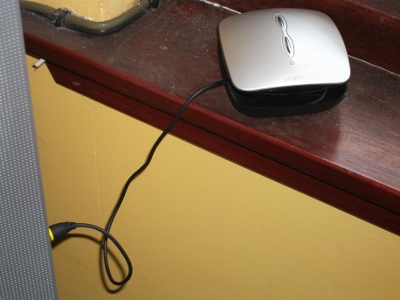 This is quite an old bit of kit, basically a Bluetooth receiver with a video out – send it a picture and it sends it to the connected device over a composite cable. It comes from a time when everyone was wondering what Bluetooth was really for, unfortunately for Nokia it turned out that this wasn't it – despite the clever use of 2.4GHz.
Sponsored: Minds Mastering Machines - Call for papers now open