Eminent EM7195 HD server
Media streamer with a TV tuner and USB 3.0
Review The Eminent 7195 is a monster of a media player. It towers above diddy streaming clients like the Apple TV and WDTV models, and would doubtless win a brawl with its HDD media player Netherlands neighbour A.C.Ryan.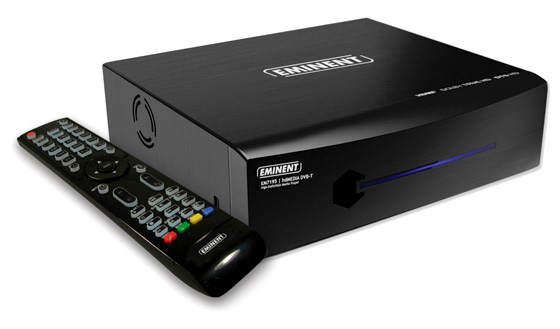 All-encompassing: Eminent's EM7195 HD server
To emphasise its size, compatibility badges are writ large and loud across its substantial aluminium casing. But then it does have a reason to shout. It's extremely well specified. Not only is the EM7195 a media player/server, it has two integrated DVB-T terrestrial TV tuners on-board, as well as some nicely thought out file management and web services.
If you're familiar with devices like the Popcorn Hour, you'll know what to expect. The model reviewed here ships with a 500GB drive and is priced at £220. You can also buy one sans drive for £179, or with a 1TB drive at £250, 1.5TB at £269 and 2TB at £289.
Naturally, the most important aspect of any media player is file support, and the EM7195 is not found wanting. Basically, everything I threw at the EM7195 from my ragtag assortment of downloads and rips was played. Popular video formats AVI, AVCHD, MOV, H.264 and anything in an MKV wrapper were all quickly unspooled.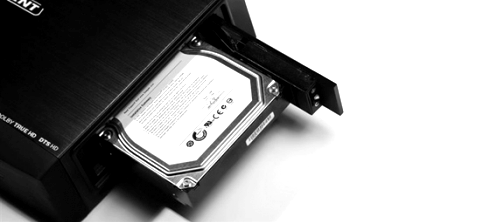 Drives are easily swapped out and you can buy the unit unpopulated
Not only is there SRT subtitle support, but you can also customise font, size, colour and position of your subtitles. The player will also play DVD and Blu-ray ISOs (although there's no Java compatibility) and Video TS files. Music compatibility is equally as comprehensive. The EM7195 tapped its little plastic feet to FLAC, MP3, AAC, WAV, APE, OGG and WMA tracks - but there is no support for album artwork.
COMMENTS
Hello There, Guest
Above title is the response I get when connecting to networkedmediatank.com and I also get full read access to the site. It is not unreasonable that they require registration for posting to the site, just as El Reg does. Using the EM7195 review just to take a cheap shot at popcorn hour was bad enough, being way off target is unforgiveable.
You'd like to see a greater warning about so-called appaling firmware problems? There don't seem to be many HD media servers around without their fair share. At least the PCH A200 is still getting new firmware releases unlike the original WDTV which has been abandoned for well over a year now.
Getting closer to the original topic and in answer to the question in your title:
From what little can be seen of the user interface in the review and the comment about lack of support for album artwork, I'd say that the popcorn hour is streets ahead here (yes, even the slow, crappy jukebox).
The tuner is a feature that the popcorn hour lacks, but as it doesn't support HD, I'd be needing a separate box anyway.
The noise mentioned in the review is also a significant negative for anyone with good audio hardware that doesn't want distractions during quieter passages.
The USB3 failings maybe score a draw with the popcorn's gigabit ethernet which only makes transferring media to it's HDD take a while longer, I have yet to encounter a media stream which requires more than 100 megabit ethernet to handle it.
Overall, I'd say the PCH is the better system and the review score for the EM7195 is a tad generous at 70%. For anyone still considering the EM7195, definitely go for the diskless version and save a few beer vouchers by getting an HDD seperately and sticking it in.
HTPC/Zotac etc
After messing with various media 'Soulutions' I gave up and got Z-Box (ND-22 from Zotac). built with a 500GB HDD and 4 gig ram it came in around the same price as this unit and is way more flexible.. Especially with XBMC - all formats all progys required to take care of various tasks for media. Hooked nicely into my HI-FI for music and barely a peep from it. No tuner tho - but considering USB ones can be bought for around 20 quid I am not too bothered.
Also added a usb dongle and a PS3 bluetooth remote for under 20quid) oh and has built in gigabit LAN.
"It appears that you've exceeded the maximum number of posts you can view"
"To unlock the forum and continue viewing messages, all you need to do is to Register for a free account. The entire process takes just a few minutes so create your account now and view as many threads as you like! "
try reading more than a certain number of messages and you get that. no idea what the limit is, i get that every time now.
i think you missed the point. its register to READ the forum. that's a bad sign. If el reg was register to read how many readers would it have? arsing around with yet another random sign in just to read something? f. off!
and you said -> " being way off target is unforgiveable." but I forgive you as its easter.
as for noise, my PCH squeals like a stuck pig for about 15 mins after being turned on with a faulty fan. i'm not the only one with this problem i noticed *before* they stopped randoms reading their forums.
as for ui's anything that doesn't let you change mistaken files from inside the UI is useless for consumers.
still want the gigabit fixed, takes forever to copy files up to the unraid server.
interface
The lack of a HD tuner does make it a bit of johnny come lately. But I suppose the inclusion of a tuner at all is a good sign. Interface looks a stone age, I know programmers cost money, but?. Can it be used diskless? Does it work happily with a SSD for recording? how good is the epg? Looks a tad expensive compared to say a wdtv plus humax pvr.
Noisy?
A little on the noisy side? It's a no-go then. Sorry. Some people like their images. I like my sound. Quiet as well as loud. Noisy is a no-go for media gear for me.