Eminent EM7195 HD server
Media streamer with a TV tuner and USB 3.0
Review The Eminent 7195 is a monster of a media player. It towers above diddy streaming clients like the Apple TV and WDTV models, and would doubtless win a brawl with its HDD media player Netherlands neighbour A.C.Ryan.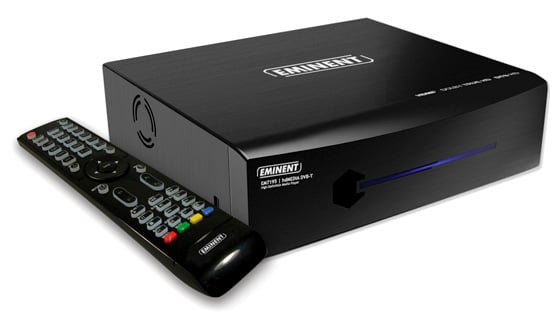 All-encompassing: Eminent's EM7195 HD server
To emphasise its size, compatibility badges are writ large and loud across its substantial aluminium casing. But then it does have a reason to shout. It's extremely well specified. Not only is the EM7195 a media player/server, it has two integrated DVB-T terrestrial TV tuners on-board, as well as some nicely thought out file management and web services.
If you're familiar with devices like the Popcorn Hour, you'll know what to expect. The model reviewed here ships with a 500GB drive and is priced at £220. You can also buy one sans drive for £179, or with a 1TB drive at £250, 1.5TB at £269 and 2TB at £289.
Naturally, the most important aspect of any media player is file support, and the EM7195 is not found wanting. Basically, everything I threw at the EM7195 from my ragtag assortment of downloads and rips was played. Popular video formats AVI, AVCHD, MOV, H.264 and anything in an MKV wrapper were all quickly unspooled.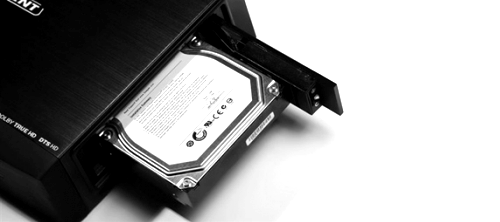 Drives are easily swapped out and you can buy the unit unpopulated
Not only is there SRT subtitle support, but you can also customise font, size, colour and position of your subtitles. The player will also play DVD and Blu-ray ISOs (although there's no Java compatibility) and Video TS files. Music compatibility is equally as comprehensive. The EM7195 tapped its little plastic feet to FLAC, MP3, AAC, WAV, APE, OGG and WMA tracks - but there is no support for album artwork.
Sponsored: Minds Mastering Machines - Call for papers now open