ET, phone back: Alien quest seeks earthling coders
Open source joins Search for Extra Terrestrial Intelligence
Cyclops, realized
It was only in 1997 that SETI scientists held a series of workshops looking at future goals and how to achieve them when it was felt the Cyclops concept could be delivered. The workshops produced SETI 2020: A Roadmap for the Search for Extraterrestrial Intelligence, which includes a review of Project Cyclops by Tarter and the technological changes since its proposal. Among the ideas discussed are large arrays of small radio telescopes called Large Number of Small Dishes, or LNSD in acronym-friendly boffin-speak.
ATA funding was secured in 2001 from Microsoft's Allen, covering the first phase of construction, and tests and initial observations came online in 2007. Currently a network of 42 dishes sitting in the Cascade Mountains north of Lassen Peak and the imposing Mount Shasta in northern California, ATA is a joint project of the SETI Institute and the University of California, Berkeley.
Just after ATA came online and started churning out its first data, Tarter evangelized the opening-up of the SETI program and making ATA data available. She called for "citizen scientists" to become involved on the occasion of her receipt of the TED Prize in 2008. The prize is awarded to what the nonprofit TED organization calls "exceptional individuals" who are granted one wish to change the world. Tarter's wish: to "empower Earthlings everywhere to become active participants in the ultimate search for cosmic company."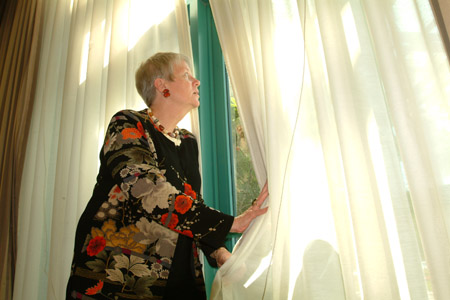 Watch the skies: SETI Institute's Jill Tarter looking for the next Wow!
The ATA might be SETI's biggest radio telescope yet, but the physics of funding are still tough. A nonprofit with around 130 employees, SETI continues to rely on the generosity of NASA, organizations such as Intel, Google, and Amazon, and individuals such as Allen. Ironically, SETI now has more work to do with proportionally less resources thanks to its expanded mission, just as US politicians have become fanatical about cutting funding for sponsor organizations such as NASA. This is unfortunate, as there remains the small matter of the remaining 308 dishes planned for ATA, which will likely need another Allen-style white knight.
Economics might also explain why SETI has changed from your typical high-walled research outfit running closed-source software into a full-blooded open sourcer surfing the crowd outside.
Opening its code, data, and culture could help SETI overcome its limited headcount and funding by bringing in fresh ideas without necessarily owning them. Putting data on the cloud, meanwhile, means that SETI can avoid the path followed by many a research organization of building or buying its own supercomputer to crunch vast amounts of data.
SETI's conversion has also been assisted by the presence of some open thinkers and supporters.
Sitting on SETI's board of trustees is Greg Papadopoulos, the former chief technology officer of Sun Microsystems, now owned by Oracle. Hardware giant Sun enjoyed a years-long romance with open source code and culture in a doomed attempt to refloat its beached server business. The SETI board advised Tarter to change the culture and embrace the outside. "The whole world is moving to openness," Agrawal notes, "so we should move to [being] open"
Sun's former chief open source officer and current Open Source Initiative board member Simon Phipps, meanwhile, has advised SETI. Phipps tells us he helped SETI on licensing, community dynamics, and project structure. Phipps became involved at the request of then–OSI board member Danese Cooper. Cooper, now Wikimedia Foundation CTO, had helped launch setiQuest.org last year, and promoted the release of the first APIs at the 2010 O'Reilly Open Source Conference (OSCON) in Portland, Oregon.
In the background is tech-book publisher, open source conference organizer, and coiner of memes Tim O'Reilly. O'Reilly has taken an active interest in drumming up support among his open source peers, reading between the lines of Cooper's blog. Wikimedia's CTO says she was approached by O'Reilly to help on SETI. Tarter, meanwhile, was given a speaking platform at last year's OSCON.
Hopefully for SETI, embracing open source code and community will pay off better than it did for Sun. Tarter is certainly optimistic as SETI moves to the next phase of its project by releasing code and algorithms later this year.
Into the unknown
"Perhaps some folks out there might find efficient algorithms that we've developed for finding linear patterns in two-dimensional [frequency and time] plots," Tarter says, "... other people might devise tutorials to help us understand this. It's TBD, because we just don't have this culture. This is new to us and I'm sure we are going to stub our toes a whole lot of times, but I'm hoping people are passionate about SETI enough that they'll be forgiving."
So what happens if some SonATA crowd-sourced algorithm finds a new Wow!? First, Tarter reckons she will crack open the bottle of champagne that the team keeps on ice. Next, they'll go back to work trying to validate the signal against known interference by drawing further on open sourced APIs that have been crowd-sourced and battle-tested in the cloud.
"Finding the signal is only the first piece," Tarter says. "That doesn't say whether that signal is our technology or there's – and that's a very, very important piece. We are looking at ways for the public to get involved in that." ®
Sponsored: Minds Mastering Machines - Call for papers now open