On the hole
A rich narrative supports the expanded fiction through excellent voice acting and scripting. Your new companion Wheately - an AI personality core, voiced superbly by Stephen Merchant - is the perfect bumbling, halfwit foil to GLaDOS's dispassionate sardonicism. But the unexpected show stealer has to be JK Simmons as Cave Johnson. Reminiscent of his turn as J Jonah Jameson in the Spiderman films, Simmons hits the perfect tone as the acerbic, no-nonsense father of Aperture Science, delivering arguably the funniest and most memorable performance in videogame history.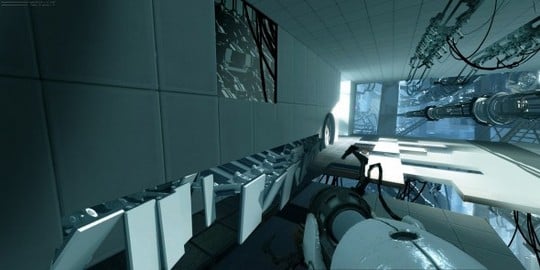 Off the wall
The Portal gun naturally returns as the game's cornerstone mechanic. By allowing you to teleport objects – including yourself - through otherwise impenetrable surfaces, the mechanic proves as ingenious and hilarious as ever. Nowhere more so than when harnessing gravity and momentum to catapult yourself across vast distances. Not content with a mere rehash of Portal, however, Valve slowly introduces an increasingly complex toolset which proves every bit as ingenious as the eponymous device.
Jump pads and laser-defracting cubes imbue early puzzles with refreshing novelty, but it's the appearance of the three physics-bending gels in the game's second half that really augments gameplay. Blue 'repulsion' gel bounces objects around with no loss of momentum, orange minimises friction to speed objects over its surface, and white paints portal-resistant surfaces to allow new locations for portaling.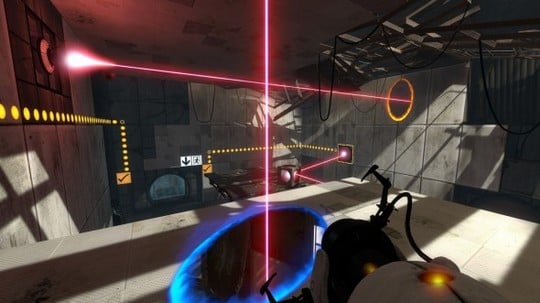 Red, red, line...
The decision to exaggerate rather than merely repeat the original's playful physics proves Portal 2's greatest triumph. Puzzles combine the gels and other contrivances in truly inspirational arrangements. One minute you're ricocheting your way up vertiginous heights, and the next redirecting explosives towards gun turrets through newly created portal surfaces. All the time, Valve expertly balances the challenge between complexity and fairness, and you're only ever a eureka moment away from solving seemingly impossible puzzles.
COMMENTS
Your loss
Can't say I'm a big fan of Mr.Merchant either, but he's perfect for this.
Just wonderful....
Finished the single-player PC version this morning (early!) with the kids helping out with some of the puzzles. Going to play the co-op version with my eldest later on. A truly magnificent game for those of us that like to think rather than just shoot....!
Finished it yesterday...
... and started again! Worth every penny.
All Hail the Aperture Science Lab !
Proving that good, innovative gameplay is still possible in this world of endless, boring sequels to endless FPS clones.
really?
Can you really find 10 people who don't like their humour for every one person who does?
I wager I can find 10 people who say you are wrong to 1 who agrees with you..